The Kofi Annan International Peacekeeping Training Centre (KAIPTC) and the Government of Japan have enhanced their long-standing cooperation with an understanding to foster a solid foundation for future collaborations to advance peace and security in Africa.
The Executive Management Committee of the Centre, as part of efforts to strengthen collaboration with major key stakeholders, paid a courtesy call on the Japanese Ambassador to Ghana, Mr Kwesi Hisanobu Mochizuki.
Major General Richard Addo Gyane, Commandant, KAIPTC, expressed appreciation to the Government of Japan for the continuous support to the Centre over the years in ensuring peace and security and advancing sustainable development in Africa.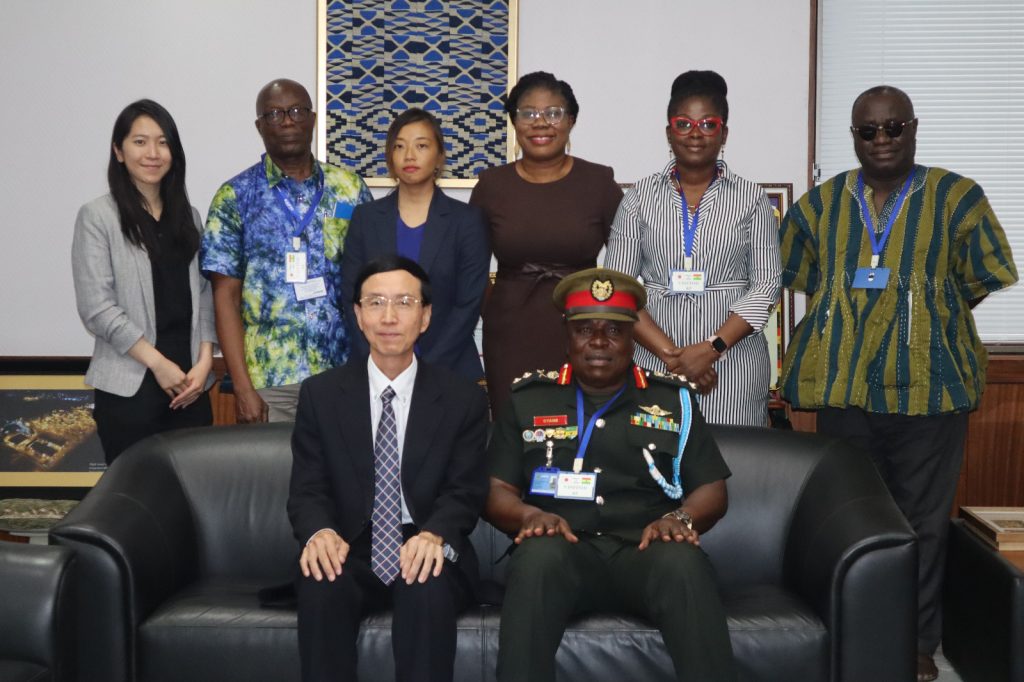 The Commandant said the Centre's strategic plan, which began in 2019 and is expected to end in 2023, adding that the Centre's new strategic plan currently being developed, would also give a clearly defined and sustainable roadmap in the peace and security architecture in the next five years.
He said, "we want to include all our development partners have an input in the new strategic plan. This also includes Japan. As a donor country, we deem it an honour to include you in our strategic plan."
Ambassador Mochizuki applauded KAIPTC's role in ensuring peace and security in Africa, adding that the Government of Japan recognises the importance of the Centre and is determined to support it particularly in addressing issues of security in Africa.
That, he said, called for a strategic approach, strengthened collaboration and a shared understanding of the emerging security situation on the continent.
Prof. Kwesi Aning, Director, Faculty of Academic Affairs & Research, KAIPTC, giving an overview of the security situation in the sub-region and the Sahel, disclosed that partnership and ownership had been an issue of concern in most African states.
He said the proactiveness of the Japan Government to foresee some of these challenges and finding appropriate ways of addressing them had not gone unnoticed.
Prof. Aning said the Centre was starting a new project focused on preventing extremism radicalization on small arms in the context of stabilization, adding that communities and states in the sub-region were all threatened while many struggled for survival and to protect their livelihoods.
On the Accra Initiative, aimed at preventing spillover of terrorism from the Sahel and to address transnational organised crime and violent extremism in member countries' border areas, he said through the UNDP, the Centre had put in a proposal on promoting efficiency in the implementation of the Initiative.
Ms. Horname Noagbesenu- Director, Policy Planning Monitoring and Evaluation, said the Centre in the next five years, among others, would be concerned about the issues of women and the youth particularly Gender-Based Violence which is on the rise.
She said the COVID-19 pandemic, ongoing conflicts and displacements in certain regions of Africa had led to an increase in Gender-Based Violence which required initiatives and a comprehensive approach that focused on empowering women economically, socially and politically.
Ms. Horname said climate change disproportionately impacts women in Africa where gender inequality is more pronounced and that the effects of climate change exacerbated existing gender disparities and created new challenges.
Importantly, she noted that women and youth play a significant role in peacebuilding processes, and that there is a need for a concerted effort to support and empower women's participation in peacebuilding and ensuring their safety and security as well as promoting gender equality in all aspects of peace and security initiatives.