Empowering women for conflict prevention, resolution: Government of Denmark, KAIPTC roll out new course
Women across Africa play key roles in taming or preventing conflicts; however, their efforts go unnoticed. This has engaged the attention of the Kofi Annan International Peace Keeping Centre and the Government of Denmark to reverse the trend through a course that empowers women with skills and knowledge to live out their roles in preventing conflict in the Sahel. Its maiden edition dubbed 'Women in Conflict Prevention Course 2021' focused on the Sahel Region—a hotbed for extremism that threatens peace and security in the sub-region.
The course was recently introduced in pursuit of the strategic objectives in KAIPTC's Strategic Plan, with support from the Ministry of Foreign Affairs of Denmark. The two-week course aimed at providing knowledge and expertise on women's role in conflict prevention and peace process in the region. It offered insight into the factors that trigger conflicts.
A Centre of Excellence
The Deputy Commandant of KAIPTC, Air Commodore George Kweku Arko-Dadzie, who opened the course, said over the years, the Centre had "established itself as a Centre of Excellence in research and training in the Conflict and Peace Operations fields." He added; "This course specifically is contributing significantly to the objectives of the ECOWAS Women in Conflict Prevention Framework and is structured as a collaborative problem-based learning programme that will encompass lectures, case studies, small group works, brainstorming and exercises".
Topics covered include the Nature of Conflict, Theories of Conflict, Conflict Analysis and Conflict Mapping, Contemporary Security Challenges and Conflict Prevention in Africa. The participants were also taken through African Peace and Security Architecture, Early Warning and Response, Women in Conflict Prevention and Human Rights in Conflict Prevention among others.
They were also exposed to some of the principles and theories including the dynamics and fundamental elements necessary for a successful mission accomplishment, which is part of peace efforts in conflict resolution.
With the course content in mind, Air Commodore Arko-Dadzie said it was the expectation of the Centre that the course would significantly enhance the capacity of participants to contribute ultimately towards the building of a peaceful and stable Africa where the security of all people would be guaranteed. He gave thumbs up to the Ministry of Foreign Affairs of Denmark for its unflinching support in partnering with KAIPTC to run the course he described as "important."
The capacity-building event brought together 20 participants mainly from personnel working with communities in conflict-affected areas, non-governmental organisations, civil society organisations and other organisations involved in conflict prevention in the Sahel Region.
Through the course, KAIPTC and the Danish Ministry of Foreign Affairs have increased awareness of participants on their roles in preventing conflict, and further established a network of women in the Sahel Region who would collaborate to support conflict prevention efforts.
Again, through the course, participants now have improved knowledge and skills in conflict resolution, which they are expected to use to improve and sustain conflict prevention processes in the Sahel Region.
The course comes at a time the researchers from KAIPTC warned that there was a shift in the world of violent extremists as women were not just victims. Women who would ordinarily coil with fear in the past are performing several roles to fuel terrorism, radicalisation and violent extremism. With the roll-out of the course, KAIPTC and the Denmark Foreign Affairs Ministry are contributing to remedial efforts to stem the rising cases of extremism in a sub-region, which is already struggling with poverty and underdevelopment.
Testimonials 
A Research Officer in charge of Electoral Assistance at the ECOWAS Commission, Manyam Tukur, was full of praises for the course.
"I find the course very engaging, the modules are comprehensive and have a lot of information which will help guide me along my path as a Gender Advisor and Election focal point. The range and experience of the facilitators are exceptional, and it was quite mind-blowing hearing stories of first-hand experiences of conflict encounters and how some issues were dealt with. This course is important to my work as UPS election focal point, as it has broadened my mind on the challenges in gender and how to keep pushing in concerning them."
So did the Sierra Leone National Network Coordinator for West Africa Network for Peace Building, Isata Mahoi:
"I appreciated the fact that the facilitators are all grounded on their modules. The approaches they used are all in place. There was full participation at all levels, communication was effective. This course has capacitated me in such a way that, my current job is well placed at the helm of affairs and conflict prevention. Therefore, I will make the best out of this course to create more impact in my country and the continent as a whole."
UNSCR1325 and women in conflicts
The UNSCR1325 adopted in October 2000 recognised the experiences of women in conflict and post-conflict situations, and also acknowledged the contributions and absence of women in the conflict resolution, prevention and peacebuilding process. The Resolution called on all stakeholders and actors, to ensure the mainstreaming of gender perspectives in all UN peace and security efforts. It further called for the empowerment of women, to ensure their inclusion in the prevention of conflict, and peacebuilding process.
With West Africa and the Sahel seen as a hotbed for violent conflicts and terrorism for which women and children remain the most vulnerable, there is a general consensus that more needed to be done to empower women.
While women withstood the worst of conflicts worldwide, the Council on Foreign Relations figures highlights that between 1990 and 2019, women worldwide constituted just 2% of mediators, 8% of negotiators and 5% of witnesses and signatories in all major peace processes.
According to the UN, women are mostly absent from peace processes, which results in peace agreements and ceasefires that rarely address the perspectives, needs and concerns of women and other vulnerable groups.  Additionally, the lack of planning for the needs in post-conflict recovery could endanger the long-term sustainability of any peace agreement.  Hence, women's participation in preventing conflict is essential for achieving a lasting positive peace process.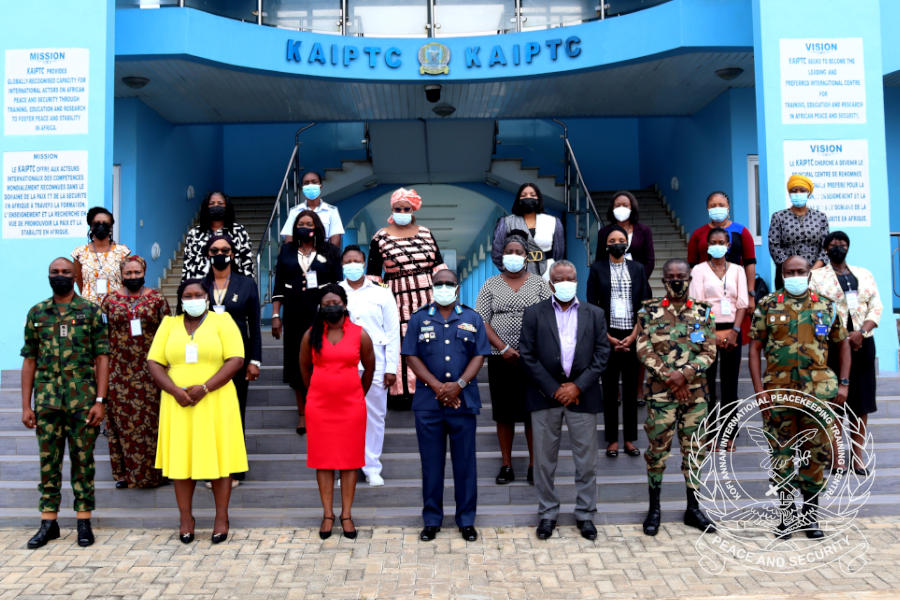 ---
For further information, please contact the Corporate Affairs Unit of the Kofi Annan International Peacekeeping Training Centre (KAIPTC) on +233302-718200 ext 1104/1203 or +233 550 303030. You can find the KAIPTC on Facebook and Twitter: @KaiptcGh and Instagram: @kaiptc. You can further find out more about the KAIPTC on our website: www.kaiptc.org
About the Kofi Annan International Peacekeeping Training Centre:
The Ghana Ministry of Defence (MoD) established the Kofi Annan International Peacekeeping Training Centre (KAIPTC) in 1998 and commissioned it in 2004. The purpose was to build upon and share Ghana's five decades of internationally acclaimed experience and competence in peace operations with other states in the Economic Community of West African States (ECOWAS) region and the rest of Africa. This was in recognition of the need for training military, police and civilian men and women to meet the changing demands of multidimensional peace operations. The Centre is one of the three (3) Peacekeeping Training Centres of Excellence mandated by the ECOWAS to offer training in peacekeeping and peace support operations (PSO) in Africa.
The Centre delivers training courses in three thematic areas; Peace Support Operations, Conflict Management and Peace and Security Studies and also runs Masters and PhD programmes in same. The KAIPTC has a world-class research department that undertakes research in the thematic areas in Peace and Security. Located in Accra, Ghana, the KAIPTC is an internationally recognized institution and has to date trained and tutored over 25,207 participants and students since its inception.
KAIPTC is a gender-sensitive organization and committed to gender equality. Following the launch of its gender policy in 2014, the Centre has mainstreamed gender into its policies and programmes, and integrates same in its focal areas, namely training, research and postgraduate education. The Centre has developed a Sexual Harassment policy and fully oriented employees on same. It has also provided a Nursing and Childcare Centre and instituted a paternity leave policy, all with the aim to create a conducive work environment at KAIPTC.