KAIPTC rolls out Monitoring and Evaluation in PSOs course to meet AU/ ECOWAS needs
Accra, March 2021: The Kofi Annan International Peacekeeping Training Centre (KAIPTC) commenced a training programme in March 2021 for monitoring and evaluation experts engaged in Peace Support Operations (PSOs) in international institutions. The pilot course was meant to equip participants with the required skills and knowledge to effectively undertake monitoring and evaluation in PSOs. These include military and police Officers serving or interested in serving in AU/ECOWAS missions, as well United Nations staff who are required to carry out functions related to monitoring and evaluation. It also meant to establish a mutual understanding in measuring the efficiency and effectiveness of Africa Peace Support Operations at a time the mandates of such operation have become complex, ambitious, and costly to implement.
Engaging participants at the opening ceremony of the course, the Deputy Commandant of KAIPTC, Air Commodore George Arko-Dadzie, stated that the course is a product of a needs assessment. "In 2019, KAIPTC undertook training and capacity needs assessments of the AU and ECOWAS with a view to identify their needs, and to build the capacity of the continental and sub-regional planning elements. Subsequently, the AU and ECOWAS made a request to KAIPTC to conduct a course, tailored to their monitoring and evaluation requirements".
He added; "In line with these requests, and fulfilling KAIPTC's objective of providing capacity to both AU and ECOWAS to deliver on their mandates, the Centre developed what is now known as the "Monitoring, Evaluation and Learning in PSOs in Africa Course (MELPAC)". The course, I believe, will respond successfully to the peculiar needs of AU and ECOWAS within the scope of Peace Support Operations", he said.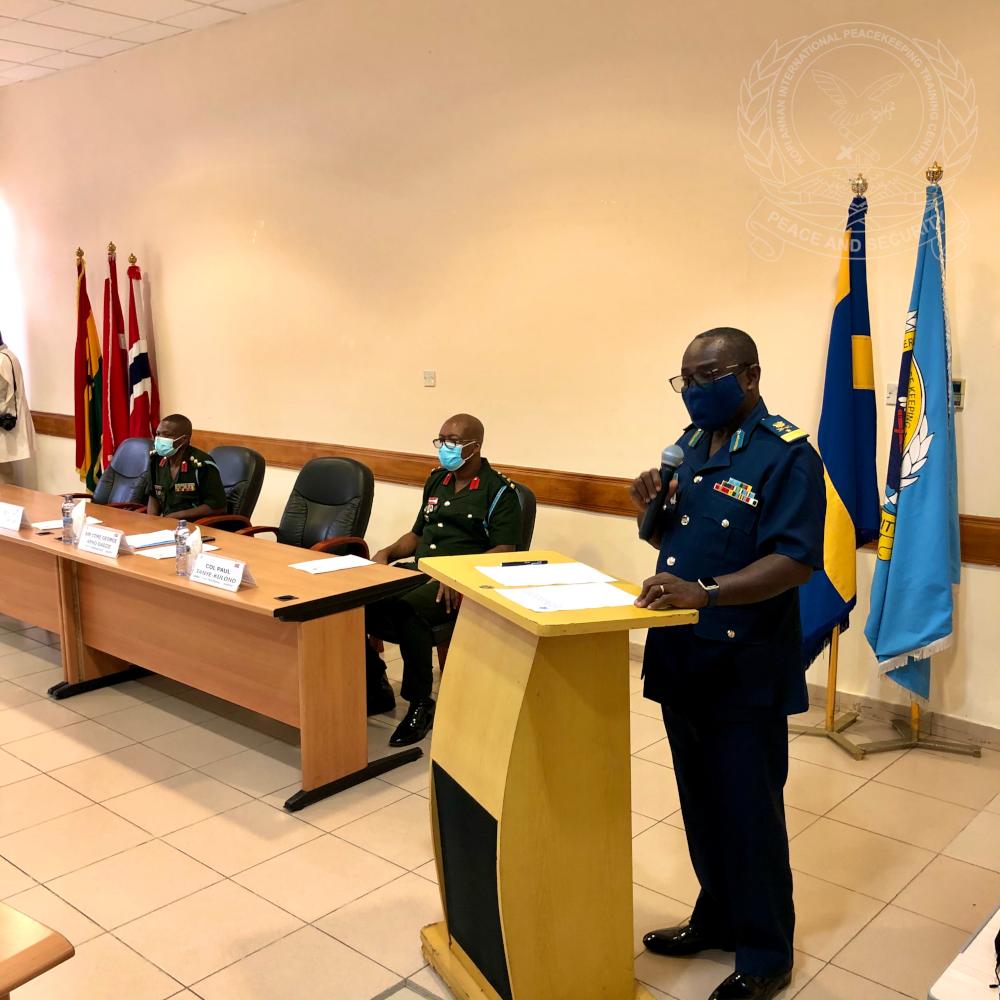 The assessments conducted in both institutions also clearly established the need to build the capacity of the continental and subregional Planning elements on Monitoring and Evaluation. With the scope and costs of PSOs heavily reliant on partners and donor support for implementation, experts say partners and other stakeholders are in turn demanding for transparency and accountability in the use of resources.
While existing monitoring and evaluation mechanisms are said to be robust and sophisticated, Air Commodore Arko-Dadzie observed that sometimes they do not provide greater clarity on what constitutes success.
"This brings to the fore the need to establish a common understanding in measuring the efficiency and effectiveness of AU PSOs," he explained. He commended the Centre's partners for their continuous support, which, he stated is helping the institution to deliver on its mandate.
At the end of the course, the participants are expected to be equipped with the principles of results-based monitoring and in mandating, preparing, deploying and drawing down AU/ECOWAS PSO, develop effective monitoring and evaluation systems for AU/ECOWAS PSOs as well as develop robust mechanisms for learning to improve the quality and impact of AU/ECOWAS PSOs.
According to the Norwegian Institute of International Affairs, while several institutions and experts are engaged in developing and applying monitoring and evaluation (M&E) methodologies and techniques to peacekeeping and peacebuilding operations, the current practice does not meet expectations. This is because efforts are fragmented, limited, and uncoordinated, and do not yet significantly influence the institutional culture and operations of key actors, such as the UN Department of Peacekeeping Operations (DPKO).
The pilot course therefore comes as a much-desired and long-awaited intervention to contribute towards effective monitoring and evaluation of PSOs.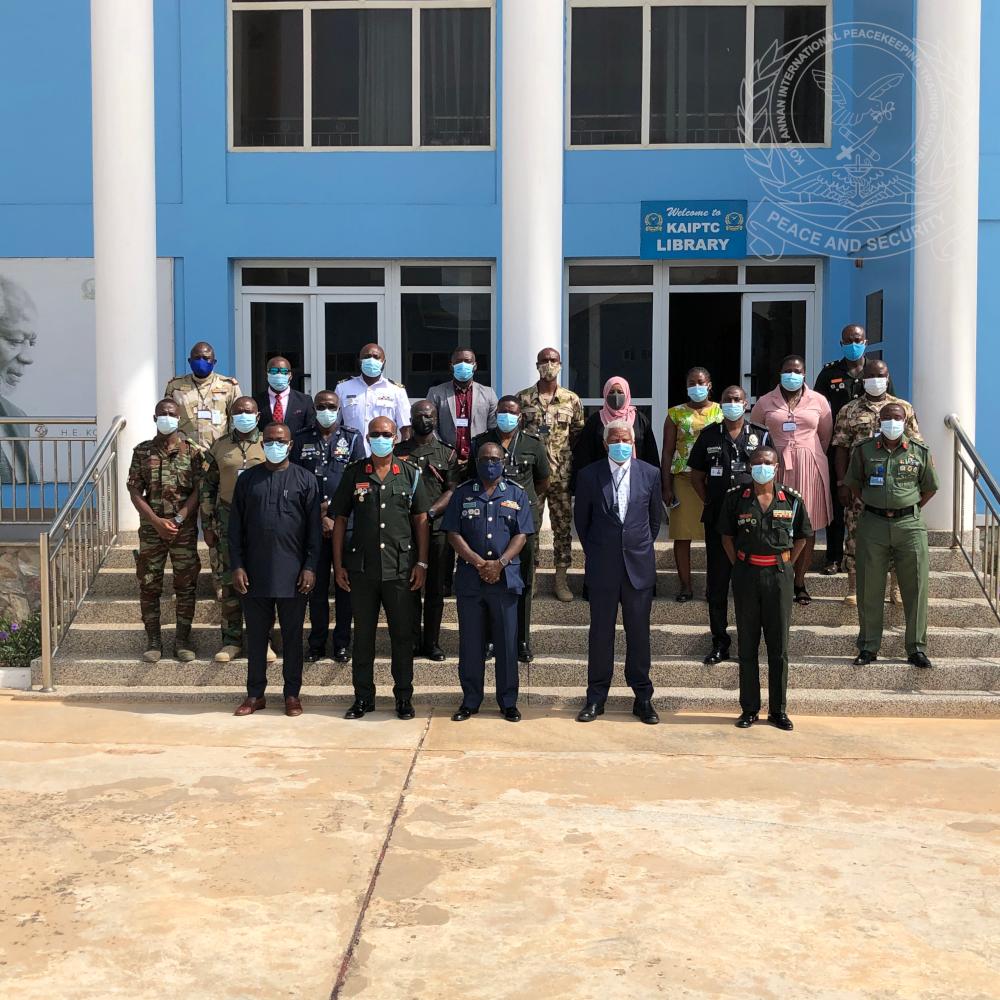 ---
For further information, please contact the Corporate Affairs Unit of the Kofi Annan International Peacekeeping Training Centre (KAIPTC) on +233 302 718200 ext 1104/1203. You can find the KAIPTC on Facebook, Twitter and Youtube as: @Kaiptcgh and on instagram @Kaiptc. You can further find out more about the KAIPTC on our website: www.kaiptc.org.
About the Kofi Annan International Peacekeeping Training Centre:
The Ghana Ministry of Defence (MoD) established the Kofi Annan International Peacekeeping Training Centre (KAIPTC) in 1998 and commissioned it in 2004. The purpose was to build upon and share Ghana's five decades of internationally acclaimed experience and competence in peace operations with other states in the Economic Community of West African States (ECOWAS) region and the rest of Africa. This was in recognition of the need for training military, police and civilian men and women to meet the changing demands of multidimensional peace operations. The Centre is one of the three (3) Peacekeeping Training Centres of Excellence mandated by the ECOWAS to offer training in peacekeeping and peace support operations (PSO) in Africa.
The Centre delivers training courses in three thematic areas; Peace Support Operations, Conflict Management and Peace and Security Studies and also runs Masters and PhD programmes in same. The KAIPTC has a world-class research department that undertakes research in the thematic areas in Peace and Security. Located in Accra, Ghana, the KAIPTC is an internationally recognized institution and has to date trained and tutored over 21, 496 participants and students since its inception.
KAIPTC is a gender-sensitive organization and committed to gender equality. Following the launch of its gender policy in 2014, the Centre has mainstreamed gender into its policies and programmes, and integrates same in its focal areas, namely training, research and postgraduate education. The Centre has developed a Sexual Harassment policy and fully oriented employees on same. It has also provided a Nursing and Childcare Centre and instituted a paternity leave policy, all with the aim to create a conducive work environment at KAIPTC.