Training Course on Humanitarian Assistance in West Africa (HAWA 20)
Conflict Management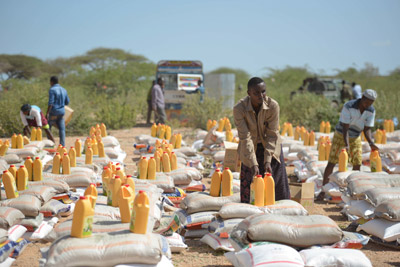 Course Fee:

See details in the description
Terms and Conditions:
See description

In short
Course Date/Duration
16 – 27 November 2020
Course Capacity
28 participants
Target Group
Mid-level civilian, police and military professionals
Course Language
English & French (

simultaneous interpretation)

Application Deadline

13 September 2020
Introduction
Compared with other regions of the continent, West Africa has the greatest number of countries where more than 30% of the population are living on less than $1.90 a day. The region also has the lowest level of public healthcare coverage and the lowest proportions of the population with access to water and decent education. As well as being the poorest continent, Africa is also one of the most unequal, with some of the most extreme concentrations of wealth and income anywhere in the world. The richest 0.01% of Africans own 40% of the continent's entire wealth. But it is not only the poor and excluded who suffer when inequality levels are high. Unequal societies are also largely unhappy ones. People are more stressed and less trustful, and crime rates are higher. (Oxfam 2019)
The West African population living in extreme poverty is particularly vulnerable to the effects of widespread food insecurity, recurrent natural disasters, climate change, the global economic crisis and socio-political instability. Especially the combination of the creeping and sudden effects of climate change as well as violent conflicts trigger and/or aggravate mass displacement and insecurity. Man-made and natural disasters have increased in frequency, scope and severity during the past few decades (World Disaster Report 2018). The total number of violent events, such as violence linked to regime changes or extremist groups, increased substantially in the past decade. Such violence is often directed against civilians and therefore triggers large population displacements and shortages of food and water, which quickly turn into humanitarian emergencies, for instance in refugee camps.
Statistics also indicate an increasing complexity of humanitarian crises due to a rise in the number of conflicts in which natural and man-made disasters coincide. This inter-connectedness is apparent in the western Sahel region. The Sahel is characterized by political and socio-economic insecurity in addition to harsh seasonal weather conditions and changing climate. These factors demand a complex humanitarian response which provides for immediate relief and the necessary preconditions to facilitate peace, security and development.
But although substantial funds for humanitarian response are made available by the international community for West Africa, it will not be able to cover all humanitarian needs. The World Disaster Report (2018) stresses the importance of strengthening national and local actors and recommends in investing resources in local response capacities, including those of civil society, at the domestic level, to reduce their reliance on international funding.
To be effective, humanitarian response needs to be professionally planned and carried out. Local and regional capacities for humanitarian assistance in West Africa remain limited, despite great demand for trainings and a high willingness to build these capacities. Moreover, effective coordination and cooperation between the diverse actors such as the military, police and civilian actors, remains difficult to achieve despite declared political will and frameworks for coordination. To this end the ECOWAS Emergency Response Team (EERT) has developed a roster for Civilian Capacities in Emergency Response Operations which is not yet operational.
At the same time, there is political will to strengthen local and regional capacities on humanitarian assistance at the individual and institutional levels and thus contribute to a more effective and efficient humanitarian assistance. This in turn will be a concrete contribution to the achievement of several sustainable development goals, including SDG 16 on peace and justice between civilian, military and police actors in humanitarian assistance and disaster relief.
The Humanitarian Assistance in West Africa course is jointly organized by the Kofi Annan International Peacekeeping Training Centre (KAIPTC) and the Austrian Study Centre for Peace and Conflict Resolution (ASPR), supported by the Austrian Development Agency (ADA) and the Austrian Ministry of Defense (MOD)
Course Aim
The aim of the course is to improve effectiveness of humanitarian assistance by providing participants with thorough knowledge and skills of the humanitarian sector and enhancing interaction and mutual understanding between civilian, police, and military actors involved in humanitarian assistance and disaster relief in West African region.
Objectives
On completion of this course, participants will be able to:
Demonstrate increased knowledge and skills regarding comprehensive approaches to planning, coordination, and implementation in the field of humanitarian assistance;
Implement measures regarding cross cutting issues (e.g. gender equality) into humanitarian assistance;
Explain legal and normative frameworks, as well as key global agendas that support humanitarian assistance;
Enhance interaction and mutual understanding amongst relevant stakeholders (civilian, military, police);
Foster networking and peer exchange among practitioners in the field of humanitarian assistance and to understand the HDP Nexus
Target Group
Set at the operational level, the course targets a mixed group of mid-level civilian, police, and military professionals directly or indirectly engaged in humanitarian assistance and/or disaster relief operations in Africa generally, and in the West Africa Region particularly, either at the local, national or regional level. For the selection process, due attention will be given to a balanced geographical, ethnical, gender, and professional distribution in KAIPTC's training courses.
Course Content
MODULE 1: Introduction to Humanitarian Assistance
Humanitarian Assistance, Disaster Risk Management Cycle, Typology of Disasters; Components of Humanitarian Action, Humanitarian Principles; Key Actors; Standards in Humanitarian Action, Codes of Conduct, Do no harm, Sphere Standards; International Humanitarian Law;
MODULE 2: Emergency Mass Evacuation
Disaster Risk Reduction, Introduction to Evacuations, Actors in Evacuations, Evacuation-Cycle, Understanding of communities and evacuation zone, Early Warning – Early Action, Emergency Shelter incl. Gender, Evacuation Law, Evacuation- / Contingency Planning, Minimum and Advanced Preparedness Actions;
MODULE 3: Humanitarian Actors: mandates, modes of operation, response mechanisms
Organizations on international regional and sub-regional and national level, Humanitarian Programme Cycle, The Cluster System, Surge Capacity
MODULE 4: Coordination and Information Management between actors in the field
What do we mean by coordination? Range of interactions, the Cluster Approach, Components of coordination, Liaison and coordination structures, Mechanisms and procedures, Humanitarian coordination in-country, Principles of interactions, Common understanding of each other's vocabulary, Information Management, Assessment Process/MIRA Framework, On Site Operations Coordination (OSOCC) Concept
MODULE 5: Human Security, Displacement and Protection of Civilians
Introduction to Complex Emergencies, Legal Framework, Principles and Application of Human Rights in Missions, International Humanitarian Law & IDRL, Protection of Civilians, Specific needs of different groups, Vulnerability analysis, Sexual and Gender Based Violence (SGBV), Gender sensitivity, Reasons for and phases of displacement, Definition and legal status of refugees and IDPs, Statelessness, Protection of refugees and IDPs, Refugee/IDP Site Planning
MODULE 6: Humanitarian Operation in fragile and conflict context / Civil-Military CoordinationHumanitarian CMCoord
Understanding of organizational cultures: Military-Civilian, Use of MCDA and relevant guidelines, Use of Armed Escort, Safety and Security in the field, Threat Assessment, Operations in high-risk areas, Protective Measures, Stay and Deliver, Hostage situation, Negotiation in Emergencies, Humanitarian Access
MODULE 7: Conflict Sensibility and community engagement during emergencies
Concept of cultural awareness and challenges in intercultural interaction and communication, Conflict sensitivity and analysis, Do´s and Don'ts in different cultural regions, Community engagement, Gender and diversity, Working with interpreters (Do not Harm), triple nexus approach, the Agenda 2030;
MODULE 8: Public Information and Advocacy
Communication strategies in humanitarian assistance, Meeting Management including team debrief, dealing with Authorities and local actors, Hand-over & Exit Strategy
Methodology
The course employs a problem-based learning approach that combines theoretical knowledge with practical application to the realities and working environments of the participants. The course content will be delivered using a combination of tools such as lectures, case studies, group exercises, and role plays.
Logistics
Course Languages: English and French. Translation will be provided.
Accommodation: It is a residential course and course participants will be accommodated at the KAIPTC.
The course fee for all participants will be covered with the generous support of the Austrian Development Agency (ADA).
Costs:
Partial Scholarship

: Board, lodging and course fee for participants are covered with the generous support of the Austrian Development Agency (ADA). The costs of travel are to be borne by the participants.

Full Scholarship

: Civil society actors from Burkina Faso, Mali, Nigeria and Senegal may apply for full scholarships including board, lodging, course fee and travel costs supported by the Austrian Development Agency (ADA).
A limited number of full scholarships (including travel costs) for participants from the armed forces will be granted over the structures of the Austrian Defence Attaché System and the Austrian Ministry of Defence (MOD). In case this applies, relevant correspondence will have been addressed to the concerned official structures.

Insurance

: KAIPTC and ASPR do NOT accept responsibility for individual medical, travel or other insurance. Participants are strongly advised to arrange their own insurance coverage for the duration of the training.

Visa

: Costs for visa are NOT covered by ASPR or KAIPTC and must be covered by the participant. Visa applications must be organized by the participant.
Selected participants will have to read some material and do the UN BSAFE training online (English: https://training.dss.un.org/course/detail/19948); prior to the commencement of the course. The aim of this preparation is to place all participants on the same level of understanding.
KAIPTC, ASPR and the Austrian Ministry of Defence (MOD) do not accept responsibility for any costs incurred due to Covid-19; i.e quarantine, lockdown etc. Resulting costs are to be borne by the participant.
The course is subject to cancellation in the wake of a new wave of Covid-19.
How to Apply
Access the application form using the "How to Apply" button.
The web address will take you to the Course Application page on the KAIPTC's Learning Management System (LMS). Please read and follow the instructions on the course application page carefully and exactly to be able to submit your application for the course.
NOTE: All applications must be completed fully. Partially completed applications will NOT be considered in the selection process.
Contacts at KAIPTC
For administrative issues
For course content issues
Ms. Marylyn Agblor
Training Coordinator KAIPTC
Tel: +233 (0) 302 718 200 Ext. 1012
Omit (0) when calling from outside Ghana
Email: marylyn.agblor@kaiptc.org
Ms. Princella Godzi
Ms. Princella Godzi
Course Director Assistant HAWA
Tel: +233 (0) 302718200 Ext. 2165
Omit (0) when calling from outside Ghana
Email: Princella.Godzi@kaiptc.org
ASPR :
For administrative issues
For HAWA project related issues
Ms. Birgit Mayerhofer
Project Manager HAWA at the Austrian Study Centre for Peace and Conflict Resolution (ASPR)
Email: mayerhofer@aspr.ac.at