28th March 2023: A research paper authored by two celebrated researchers at the Kofi Annan International Peacekeeping Training Centre (KAIPTC) has won the International Affairs Centenary Prize.
The article titled "African experiences and alternativity in International Relations theorizing about security", written by Prof. Kwesi Aning, the Director, Faculty of Academic Affairs and Research, KAIPTC, and Dr. Kwaku Danso, a Research Fellow and Deputy Dean at the Faculty of Academic Affairs and Research at KAIPTC, emerged joint winners with Valérie Rosoux's article on 'How not to mediate conflict'.
The paper was published in the International Affairs Journal's January 2022 Issue as part of its 100-year anniversary. International Affairs is one of the world's leading journals of international relations, publishing academically rigorous and policy relevant research on International Relations in the last century. As the journal moves into its second century, the International Affairs team aims to highlight those articles published in its 100th year that best embody the journal's second century goals. The paper was one of six (6) research papers shortlisted for the Centenary Prize. After a rigorous selection process to select some of the finest articles for the prize, the jointly authored paper by KAIPTC's researchers emerged tops.
Reacting to this prestigious win, Prof. Aning said: "it's a recognition and celebration of originality and excellence".
Dr. Danso, on the other hand, described this achievement as humbling and inspiring, saying: "it represents a recognition of KAIPTC's sustained commitment to contribute to scholarly and policy discourses on African and global peace and security. "
The Paper
In the paper, Prof. Aning and Dr Danso reflect on the ways in which International Relations and security studies have been responsible, in part, for the production of a racialized mode of security knowledge generation that obfuscates the security policies and experiences of people in African locales. The authors argue that the Eurocentric bias prevalent in mainstream International Relations and Security Studies elides the extent to which race and coloniality are implicated in the constitution of the current global power structure that relegates African states and their insecurities to the margins of the world. The paper draws on insights from post-colonial discourses and the episteme of alternativity to explore how the study of events and processes in Africa in a theoretically conscious manner could advance International Relations scholarship as a whole.
The paper contends that incorporating African experiences as they manifest through hybrid security orders can broaden the empirical base for International Relations theorizing about security since they offer another perspective outside the conventional western assumptions and experiences.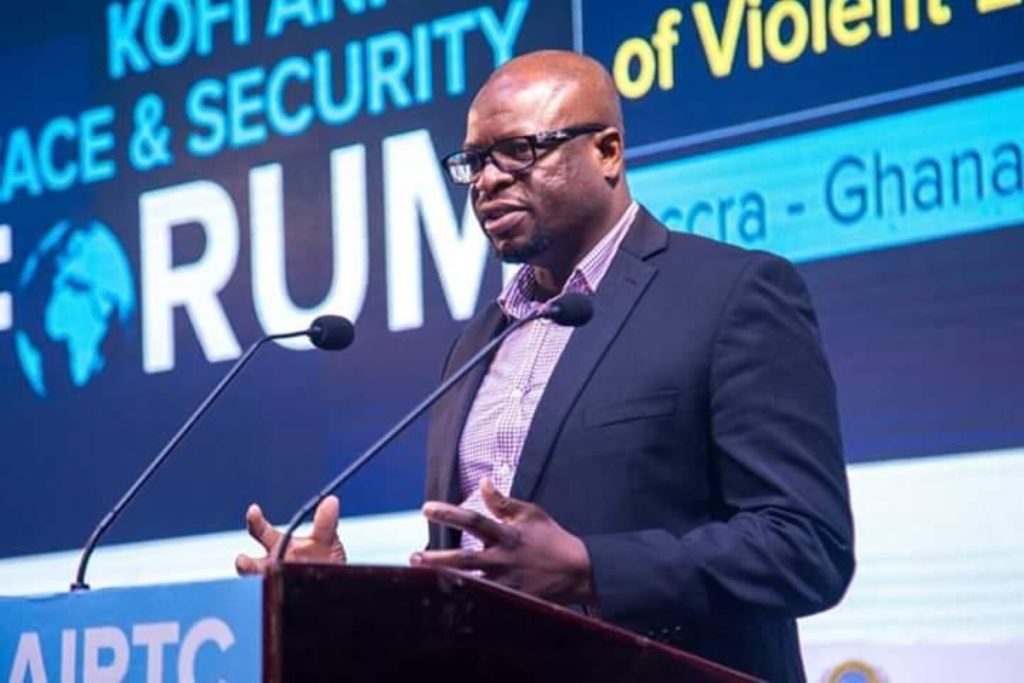 Dr. Kwaku Danso
About KAIPTC's Research Work
KAIPTC, has over the years, disseminated the latest critical thinking on African peace and security through world-class publications, and delivered a diversity of policy support to governmental, non-governmental and private institutions. KAIPTC has also participated in multiple national, regional and global fora for knowledge dissemination. The Centre was the first ECOWAS Training Centre of Excellence (TCE) in West Africa to launch a Journal of African Peace and Security (JAPS), a peer-reviewed journal dedicated to deepening knowledge and understanding of issues around African peace and security, while strengthening the policy relevance of research on the continent. It is one of the foremost peacekeeping training institution in Africa that uses insights from its research work to inform the selection, design and delivery of professional training courses, academic programmes and policy projects toward sustainable peace in Africa. KAIPTC has regularly received international recognition as one of the Top Foreign Policy and International Affairs Think-Tanks in the Global Go-To Think Tank Index Report in the recent past.
Brief Profile of the Authors
Prof. Kwesi Aning
Prof. Kwesi Aning is a full professor and Director, Faculty of Academic Affairs and Research (FAAR), Kofi Annan International Peacekeeping Training Centre (KAIPTC). With experiences from the African Union (AU) as its first expert on counterterrorism from 2005 – 2007, he wrote the independent mid-term in-depth evaluation of the Global Programme on Strengthening the Legal Regime against Terrorism in 2006 and 2014, and 2008, a UN Secretary General's report on the African Union relating to peace and security for the UN Security Council. Until January 2019, he served on the UN Secretary General's Advisory Group for the Peacebuilding Fund. In 2020, together with two others, he was a joint author of the Conflict and Development Analysis: Ghana. (Accra: UNDP. August). In July 2022, he was appointed as a member of the
World Food Program's (WFP) Security Advisory Board (SECAB), Rome, Italy, to 'provide high-level insights on security risk management technical issues at a strategic level and to modernize WFP security risk management to deliver safer operations'. He specialises in peacekeeping economies, hybrid security/political orders, peacebuilding strategies, and organised crime.
Dr. Kwaku Danso
Dr Kwaku Danso is a Research Fellow and Deputy Dean at the Faculty of Academic Affairs and Research of the KAIPTC. Dr Danso holds a Ph.D. in International Conflict Management from Kennesaw State University, and an MSc in African Studies from the University of Edinburgh. His research interests revolve around security knowledge generation in postcolonial locales, maritime security in the Gulf of Guinea, DDR in conventional and non-permissive contexts, and electoral violence. He teaches and facilitates a number of courses at the KAIPTC. He is a current Visiting Lecturer at Rhodes University. Kwaku serves on a number of committees that include the Planning Committee of the 2023 United Nations Peacekeeping Ministerial. Dr Danso has published a number of scholarly papers on peace and security in Africa. His most recent publications include:
Danso, K. and Aning, K. (2022). African experiences and alternativity in International Relations theorizing about security. International Affairs. Volume 98, Issue 1, pp. 67–83.
Aning, K., & Danso, K. (2021). Ghana: Identity formation and the foreign and defence policies of a small state. In P. H. Bischoff (Ed.), African foreign policies: Selecting signifiers to explain agency (pp. 228-243). New York, NY: Routledge