The Folke Bernadotte Academy (FBA) organized a facilitators retreat for staff of FBA and the KAIPTC who facilitate on the Gender Advisors Course. The Gender Advisors Course is delivered at the KAIPTC in collaboration with FBA to strengthen the Women, Peace and Security Agenda in Africa. The retreat, which was held in Cape Town, South Africa from the 13th to 17th of February 2023, was facilitated by two pedagogical experts with extensive experience in facilitation.
The aim was to build the capacities of Trainers and strengthen a joint approach in delivering the course for 2023.  The retreat enhanced the skills and knowledge of facilitators in delivering an adult learning training and fostered a closer collaboration between the FBA and KAIPTC team.
During the first two days participants centered on pedagogical approaches for adult learning with a focus on participative, collaborative and creative methodology. Facilitators enhanced their skills in delivering an experience-and learner-centered training using a diverse set of methods and incorporating feminist approaches to learning.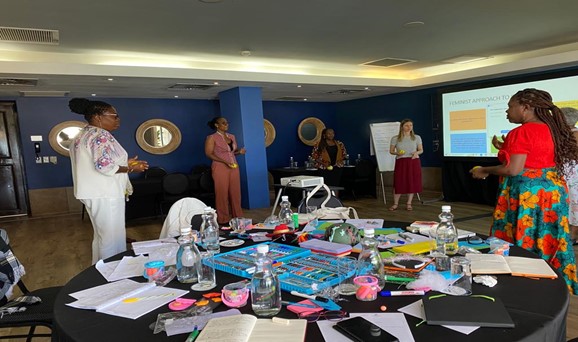 The retreat also reflected on various course sessions and the structuring of sessions with the whole Gender Advisors Course concept in mind. In the subsequent days, microteaching exercises on individual, team facilitated sessions, allowed facilitators to practice facilitating using various skills, and methods discussed ensuring mastery over the content of sessions. Discussions and feedback sessions also ensured that facilitators identified their strengths in facilitation as well opportunities to improve delivery.