The Women, Peace and Security Institute (WPSI) of KAIPTC, in collaboration with the Ghana Armed Forces (GAF) on 21st June 2023 held a media launch to kick-start a national campaign to sensitise and encourage young women to choose combat and combat-support roles in the GAF. The campaign is an initiative under the "Increasing Women Recruitment into the Ghana Armed Forces for increased participation in UN Peace Operations" project, funded by The Elsie Initiative Fund (EIF), and implemented by WPSI in collaboration with the GAF.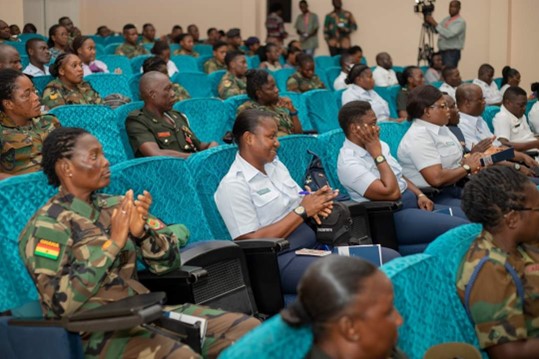 The launch was attended by the Deputy Minister for Defence, Hon. Kofi Amankwa-Manu, GAF Military High Command, a representative from The Elsie Initiative Fund for Uniformed Women in Peace Operations, some representatives of the nine (9) contributors to the Elsie Initiative Fund (EIF), among others.
In his welcome remarks, the Commandant said the Centre through its WPSI, remains committed to promoting gender equality and meaningful participation and leadership of women in peace and security.
Mr. Andrew Maharaj, Senior Trade Commissioner, (Charge d'affaires) at the Canadian High Commission to Ghana, said the Elsie Initiative for Women in Peace Operations seeks to increase the meaningful participation of women, which "means ensuring that substantially more women are represented across all ranks and functions—in non-traditional roles and senior leadership positions; in assignments that correspond to their experience and training; and in a safe environment that offers parity of deployment conditions and a professional culture conducive to their participation,".
Officially launching the campaign, Deputy Minister for Defence, Hon. Amankwa-Manu said the campaign demonstrated Ghana's commitment to the UN Resolutions 1325 and 2242 as well as the Maputo Protocol of the African Union.