Profile of Col Paul S. Tanye-Kulono, Director of Training, KAIPTC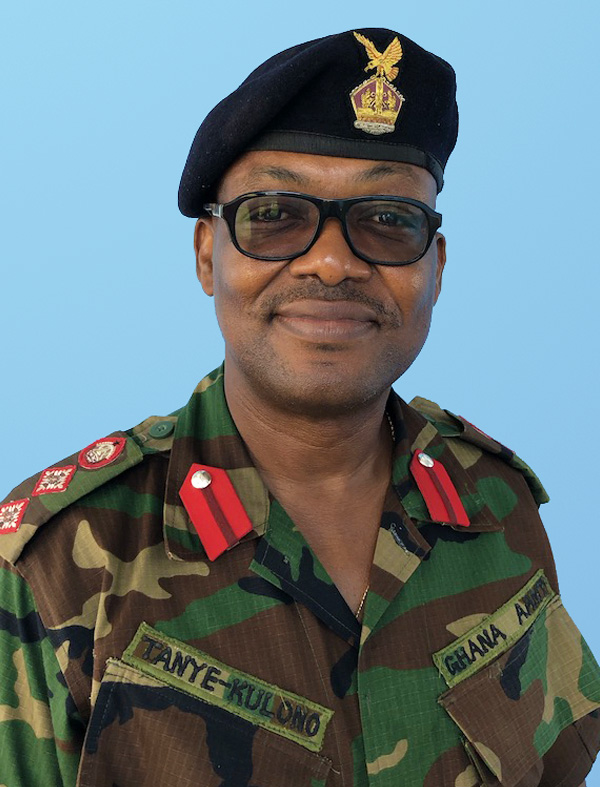 Colonel Paul Seidu Tanye-Kulono was commissioned into the Ghana Army as an Infantry Officer in 1992 after completing his standard military courses at the Ghana Military Academy (1990-1991) and the Royal Military Academy-Sandhurst (1991-1992) – United Kingdom and later as a Military Police officer in 1996.
He has attended all military courses relevant to his career, notable among them are:
a. Higher Defence Management course: College of Defence Management-India - (20 May 2019 - 30 March 2020).
b. Combating and Countering Terrorism and Weapons of Mass Destruction: George C. Marshall European Center for Security Studies, Germany (2010)
c. Post-graduate diploma, Intermediate level education: the United States Army Command and General Staff College – (01 June 2007 - 13 June 2008).
d. Passed senior staff course: Ghana Armed Forces Command and Staff College, Otu Barracks, Teshie – (September 2005 - August 2006)
e. Combat Team Commanders – (January to May 2005).
f. Passed Junior Staff course: Nigeria Army Command and Staff College, Jaji-Kaduna State – (January- May 2001).
Other qualifications:
a. Master of Management Studies (MMS): Osmania University-India (2019-2020).
b. Certificate of Advance Course in Management: All India Management Association, Centre for Management Education (2019-2020).
c. LLM (Litigation and ADR): George Washington University School of Law (2016-2017).
d. Qualifying Certificate in Professional Law: Ghana School of Law (2013- 2015).
e. LLB: Ghana Institute of Management and Public Administration- Legon Greenhill, Accra- Ghana (2010-2013).
f. MA International Affairs: Legon Centre for International Affairs, University of Ghana-Legon (2010).
g. BSC Administration (HRM) option: University of Ghana – Legon (1999- 2003).
Col Tanye-Kulono has held several appointments in his military career and is not new to the KAIPTC fraternity. He served as a Course Director (2017-18) and as the Chief Coordinator (2018-2019) at the Centre.
He is married to Mabel and they are blessed with five children. His hobbies include watching football and walking.