Profile of Col Anorph Barnabas Akanbong, Director of Training, KAIPTC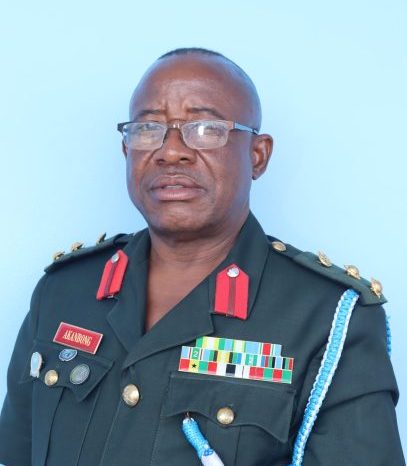 Col Anorph Barnabas Akanbong was commissioned into the Ghana Armed Forces in the year 1993 at the Ghana Military Academy, Teshie as an Infantry Officer. He has attended all military courses relevant to his career, notably among them are; Young Officers' Course, Combat Team Commanders Course, Junior Staff Course, Senior Staff Course amongst others.
He has other civilian qualifications that include; Post Graduate Diploma in Administration from the Ghana Institute of Management and Public Administration (GIMPA), Executive Masters in Governance and Leadership (GIMPA) and Master of Arts Degree in Conflict Peace and Security from the Kofi Annan International Peace Keeping Centre (KAIPTC).
He has participated in numerous peacekeeping operations to include ECOMOG in Liberia, UNAMSIL in Sierra Leone, Rwanda, UNIFIL in Lebanon and in Syria as a Staff officer respectively. Additionally, he participated in African Mission in Sudan (AMIS) as a Staff Officer and UNAMID in Darfur also as a Staff Officer.
He held several appointments at the tactical, operational and strategic levels at various headquarters within the Ghana Armed Force. Before his last appointment as Director International Peace Support Operations (IPSO) at the General Headquarters Burma Camp, he was seconded to the United Nations Secretariat or UN Headquarters in Manhattan, New York as Desk Officer with the Office of Military Affairs (Force Generation Service) and being responsible for the strategic generation of force for both the military and police components.
Currently, he is the Director Training at the Kofi Annan International Peacekeeping Centre (KAIPTC)