Profile of Colonel Albert Kwadwo Dawohoso, Director of Training, KAIPTC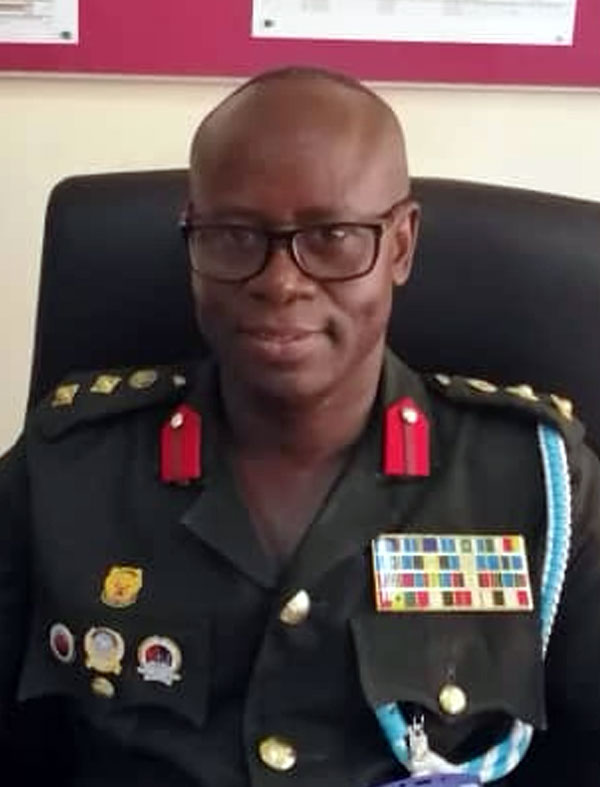 Colonel Albert Kwadwo Dawohoso was commissioned into the Infantry Corps in 1992 after his basic training at the Ghana Military Academy and the Royal Military Academy, Sundhurst, in the UK. He has done all the mandatory career courses including the Junior Staff and Company Commanders Courses in Ghana, Battalion Commanders Course in China and the Senior Staff Course in Jaji, Nigeria.
He held several Training, Staff and Command appointments. These include Battalion Second in Command, Battalion Commander, Command Operations Officer, Directing Staff, Chief Coordinator at the Ghana Armed Forces Command and Staff College and Course Director at KAIPTC. He was also an Instructor and the Second in Command of the Jungle Warfare School in Ghana.
Col AK Dawohoso has had a wide range of peacekeeping experience since 1994. He had previously served in UNAMIR in Rwanda in 1994, UNIFIL in Lebanon in 1996, 1999, 2012, ECOMOG in Liberia in 1998, MINURSO in Western Sahara in 2004, MONUC in DR Congo in 2008, UNMIL in Liberia in 2009, and MINUSMA in Mali in 2015. On these missions, he held appointments as Staff Officer, MILOB, Battalion 2IC, Battalion Commander and Chief Training Officer (U7 Chief) among others. His last UN mission appointment was Sector Commander in UNMISS, South Sudan. He assumed office as the Director of the Training Department, KAIPTC in March 2019.
The Colonel holds two first degrees in Social Sciences from the Kwame Nkrumah University of Science and Technology and an LLB from Mountcrest University College in Ghana. He also has two masters' degrees in International Relations and Diplomacy and in Humana Resource Development. Additionally, he has a postgraduate diploma in Defence and Conflict Studies. He was also awarded an honorary doctorate in Leadership in 2015 by the Technological University of the Americas.
Col Dawohoso was born in 1965 and is married with 5 kids. He enjoys keeping fit, playing golf, gardening and socialising.