Profile of Air Commodore George Kweku Arko-Dadzie, Deputy Commandant, KAIPTC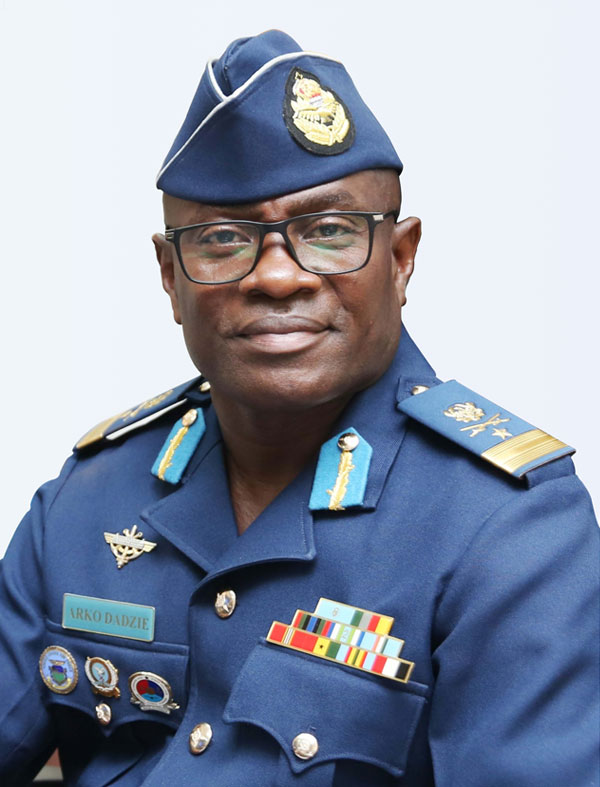 Résumé of Air Commodore George Kweku ARKO-DADZIE, Deputy Commandant of Kofi Annan International Peacekeeping Training Centre (KAIPTC)
Air Commodore George Kweku Arko-Dadzie is the Deputy Commandant of the Kofi Annan International Peacekeeping Training Centre (KAIPTC). He was commissioned into the Engineering Branch of the Ghana Air Force in August 1989. He is a product of Apam Secondary School and Ghana National College where he obtained his General Certificates of Education. The Deputy Commandant has completed all mandatory career courses, notably, Junior Staff Course at the Command and Staff College, Jaji, Nigeria in 1998 and the Senior Staff Course at the Air Command and Staff College, Montgomery, Alabama, USA in 2001. He also graduated from the French War College, Paris, France in 2011.
Air Commodore GK Arko-Dadzie holds a Bachelor of Science (Honours) Degree in Physics with Mathematics from the University of Ghana, Legon and a Bachelor of Science (Honours) Degree in Electrical/Electronic Engineering from Kwame Nkrumah University of Science and Technology, Kumasi in 1994. He also has three Postgraduate Degrees, namely; the Master of Military Operational Arts and Science and the Master of Science in Human Resource Management from the Air University, Maxwell Air Force Base, Alabama and Troy University, Alabama, USA respectively in 2001 as well as the Research Master in Historical, Philological and Religious Science with specialisation in Religions, Cultures and Policies in Modern and Contemporary Europe from Ecole Practique des Hautes Etudes, Paris, France in 2011. He also holds an Expert Certificate in Defence Management, Leadership and Strategy, awarded by the French War College, Paris, France.
He has held various staff and command appointments at different levels in the Ghana Armed Forces. He was the Assistant Chief of Staff in charge of Logistics at the General Headquarters until his current appointment. Prior to this, he was the Director Maintenance at the Department of Logistics, General Headquarters. From 2014 to 2017, he served as the Member States Support Team Leader of the Integrated Training Service, Department of Peacekeeping Operations, United Nations Headquarters, New York. He was also a Directing Staff at the Ghana Armed Forces Command and Staff College (Junior Division) in 2011. He has also held various command appointments. Significant among these are; the Officer Commanding the School of Trade Training and the Officer Commanding the Engineering Wings of the Air Force Bases in Accra and Takoradi. He was also the Acting Deputy Director Engineering at the Air Force Headquarters, Burma Camp, Accra.
Air Commodore GK Arko-Dadzie's Peacekeeping deployments include serving with the United Nations Operations in La Cote d'Ivoire, United Nations Mission in Sierra Leone and United Nations Assistance Mission in Rwanda. His peace advocacy activities transcend various presentations on peacekeeping operations, conflict resolution and co-operation at fora such as the United States Global Peace Operations Initiative Financial Year 2018 Planning Roundtable at the US State Department, Washington DC, in February 2017 and the Preparatory Workshop by the Cairo Centre for Conflict Resolution and Peacekeeping in Africa for the Sixth Tokyo International Conference on African Development entitled "On the Road to Nairobi: Partnerships in Training and Capacity Building in Peacekeeping and Peace Building" Cairo, Egypt, in July 2016. He was also the United Nations interlocutor for peacekeeping training at the UN-NATO Staff Talks, Brussels, Belgium in 2015.
The Deputy Commandant is proficient in French. He has Diploma Certificates in French Studies from the Alliance Française, Accra. He is married and with children. Air Commodore GK Arko-Dadzie is a Rotarian and an avid chess player who enjoys karate, table tennis and field hockey.