On Thursday 27th October 2022, the Kofi Annan International Peacekeeping Training Centre (KAIPTC) held a matriculation ceremony for the fifth and second cohorts for the Weekend Master of Arts in Conflict, Peace and Security (WMCPS 5) and the Masters of Arts in Gender, Peace and Security (WMGPS 2) Programmes respectively.
In all, 152 students, comprising 79 Females and 73 Males, successfully matriculated. Out of this number, 11 are foreigners from Benin, Cameroon, Congo Brazzaville, Gabon, Liberia, Mali, Niger, Nigeria, and South Africa.
Prof. Kwaku Osei-Hwedie, the Dean of the Faculty of Academic Affairs and Research (FAAR) at KAIPTC, in his welcome remarks, congratulated the matriculants and noted that their chosen programmes are relevant, given the dramatic changes and perpetual interests in gender, conflict, peace and security in Africa and around the world.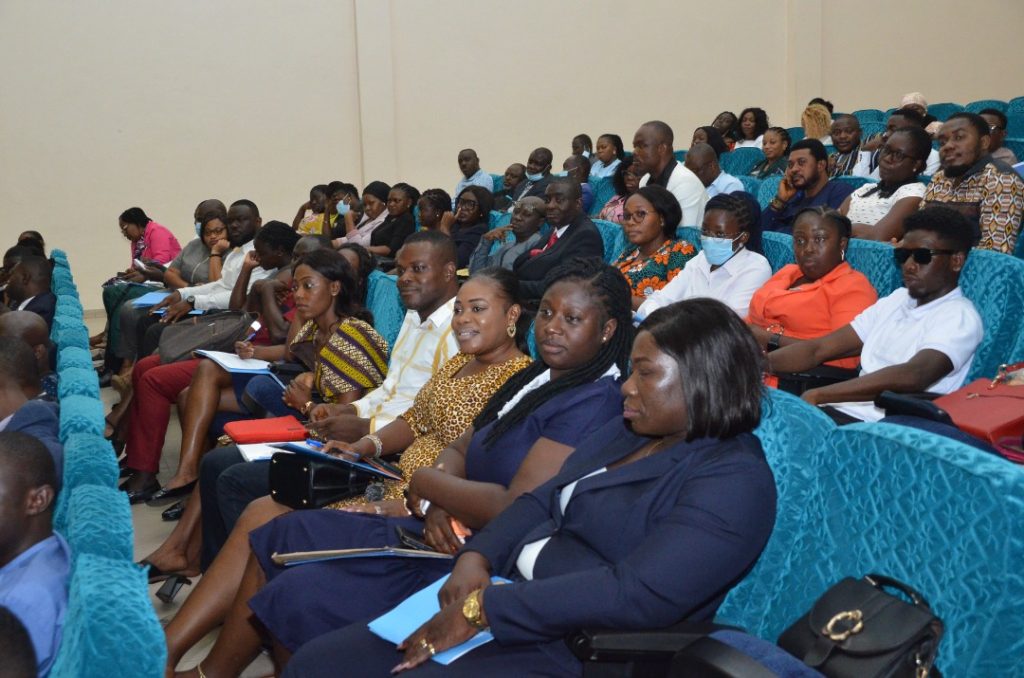 He said that the rising incidences of terrorism, violent extremism, organized crimes, governance and leadership deficiencies, and poverty remain major threats that continue to undermine the security of States in many parts of Africa, coupled with "the resurgence of military coup d'états, which is threatening the consolidation of democracy in parts of the ECOWAS sub-region". According to him, overcoming these challenges require the requisite skills and competencies in conflict prevention, management and resolution, which is exactly what the academic programmes aim to provide. "You are not here by accident. Something must have driven you to come to KAIPTC. Let me humbly say that your choice is a wise one. This is because we are a Centre with a small but dynamic and diverse student body; a quiet but collegial atmosphere and a responsive environment with multi-talented and dedicated staff; and an institution where everyone – student or staff – are chosen on merit with something valuable to offer," he noted.
In his matriculation address, Maj Gen Francis Ofori, the Commandant of the KAIPTC indicated that the matriculation ceremony marked an important milestone on the academic journey of the students. "This ceremony is also significant not only because it signifies the official commencement of your academic pursuit at the KAIPTC, it also signifies your quest to understand the world better".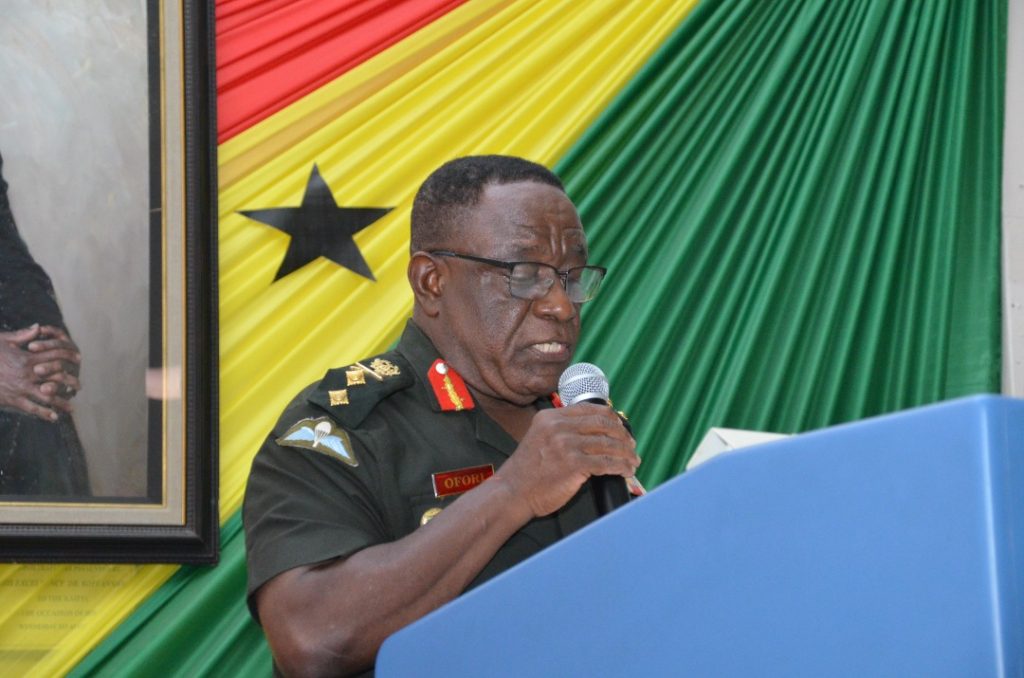 He said that KAIPTC is one of the three (3) ECOWAS Training Centres of Excellence dedicated to capacity building in conflict prevention, management and resolution, as well as peace and security promotion in West Africa and further afield. "The promotion of peace and security, therefore, features as our core mandate, and you are welcome to join this fraternity of peace seekers".
Maj Gen Ofori  added that over the last decade, KAIPTC's post-graduate programmes has equipped students with effective tools for analytical thinking, good judgment, leadership and other critical managerial skills in issues relating to gender, conflict, peace and security. He said the Centre remains highly committed to the vision of building an internationally recognized institution of higher learning that projects KAIPTC as the leading provider of tertiary education in African peace and security.
He urged the students to stay focused and take advantage of the opportunities that may come their way during the pursuit of the programme. "I can assure you that the programmes are designed to be highly engaging and challenging but also rewarding. I urge you to engage in meaningful discussions among yourselves, and share practical experiences that will enhance your understanding of the critical theories and debates in the areas of gender, conflict, peace and security".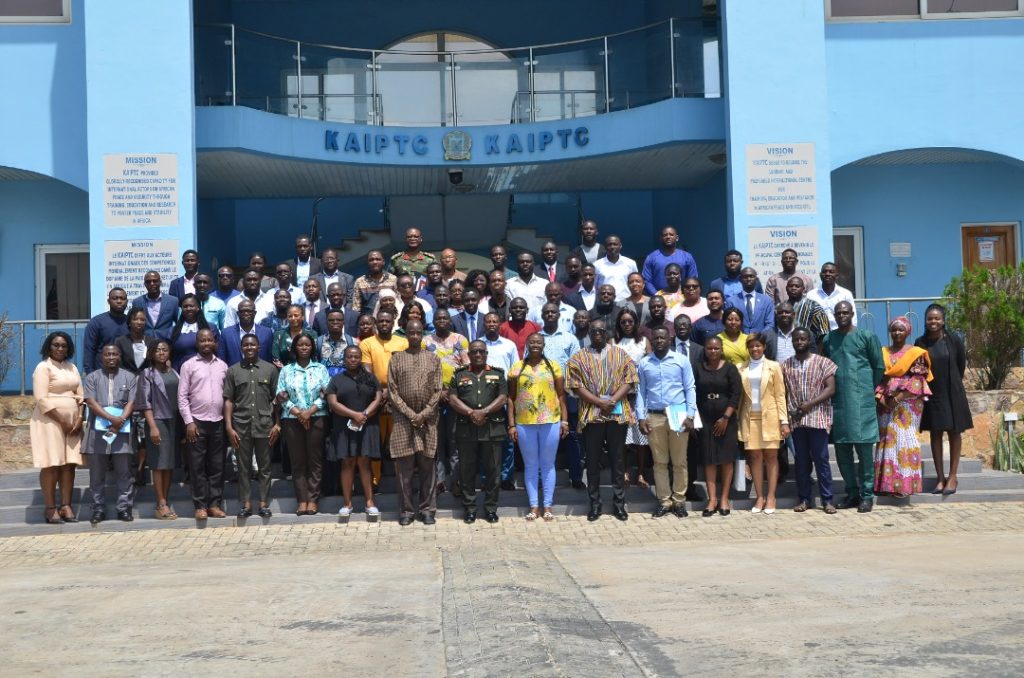 Two (2) students shared their motivations for enrolling at KAIPTC. Holy Afane from Gabon notes that; "I was looking for a University that could admit my foreign degree and allow me to pursue a Master's Programme. Then I met a KAIPTC student who is enrolled onto the MGPS programme who told me about the institution. After doing some research, I found out that KAIPTC is the indeed the best!". For Damaris Saku, a Ghanaian student, "KAIPTC as an institution offers a multi-faceted approach in its curriculum, which will equip me to develop leadership, managerial and ethical standards in a professional sphere".
Since inception in 2011, KAIPTC has groomed peace and security practitioners from 26 nations around the world who work in Security and Intelligence Institutions/Agencies, International and Regional Organizations, Civil Society/Non-Governmental Organizations in Ghana, Africa and beyond.