West Africa Peacebuilding Institute Courses
Peace and Security Studies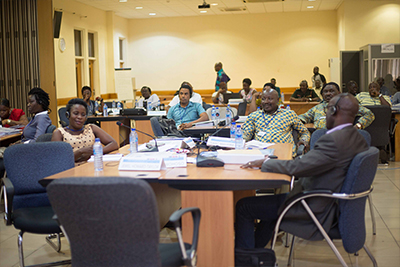 Course Fee:

1000 (one thousand) USD
Terms and Conditions:
The course is conducted in English and French (simultaneous interpretation)
The following costs will be covered by the KAIPTC: facilitation fees, air travel from international airport, food and accommodation. Visa costs as well as travel to an international airport will be borne by the participant.
Course Aim
The West African Network for Peacebuilding (WANEP) collaborates with the KAIPTC to run the West African Peacebuilding Institute (WAPI) programme. It is a two week programme. This course aims at bridging the gap between policy and practice in peacebuilding by exploring the theories and practices of peacebuilding, dialogue mediation as well as human security.
Read full details about the course
Target Group
Local actors in the West Africa sub-region
Course Content
Peacebuilding Program Design, Implementation, Monitoring & Evaluation
Human Security & Development
Youth, Peace and Security
Dialogue and Mediation: Design and Processes
Gender and Peacebuilding
Early Warning & Response: Building Capacity for Preventive Peacebuilding
Selection Process
Interested participants can apply for a maximum of three (3) courses with one course per session as courses in each session run concurrently.
We will receive roughly 15 applications for each and every seat available on this course. This will make the work of the selection board though but interesting. The process will be as following:
Selection Board will decide on shortlisted and waitlisted applications (end March 2018)
Shortlisted candidates will be asked to confirm their seats bindingly
Should not all shortlisted candidates confirm their seats, these will be offered to candidates on the waitlist on "first come first served" basis
 Contact at KAIPTC