Responsibilty to Protect Course (R2P)
Peace and Security Studies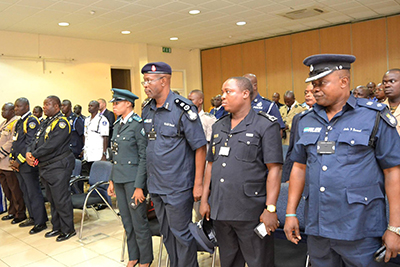 Course Fee:

$500.00 (Non-refundable commitment fee)
Terms and Conditions:
The course will be conducted ONLY in English
KAIPTC will not bear any health or accident costs for any participant
KAIPTC shall be responsible for participant's travel (within Africa, accommodation and feeding during the duration of the course
Participants who will require visa on arrival will also be responsible for their visa fees
Every participant must have proof of adequate health insurance coverage before travelling to the Centre
Course aim

Course Aim
The aim of the course is to train African policy makers, government officials, military, police and personnel from civil society organizations on the concept of R2P and its implementation.
Read full details about the course
Target group

Policy makers of governments in Africa in security.
Military, police and civilian peacekeepers.
Non-Governmental Organisations.
Representatives from the Regional (AU) or Sub-Regional Economic Communities (RECs).
Representatives from the National Peace Councils.
Civil Society Organisations.
Officials of the Ministries of Interior, Foreign Affairs and Justice.
Course content
The Foundations and Evolution of R2P.
Normative and Legal Foundations.
R2P and Africa: National, Transnational, Regional and Continental Arrangements and Practice.
R2P, Prevention and Early Warning.

Risks and vulnerabilities.
Post-conflict rebuilding and reconciliation.
Peace vs. Justice (ICC and special courts).
The role of the media.
R2P, Protection of Civilians and Military/Security Sector.

R2P – Issues, Controversies and Challenges (case study).
R2P Simulation Exercise.
How to apply
Only fully completed applications that are submitted via the application portal will be considered.
 Please click here to apply
Contact at KAIPTC
Marylyn Agblor
Training Coordinator
Tel: +233 (0)302 718 200
Fax: +233 (0)302 718 201
Mail: marylyn.agblor@kaiptc.org
Seth Agordekpe
Colonel
Course Director
Tel:  +233 (0)302 718 200
Mail: Seth.Agordekpe@kaiptc.org