Call for Applications: Protection of Civilians Course (PoC) 2020
Peace and Security Studies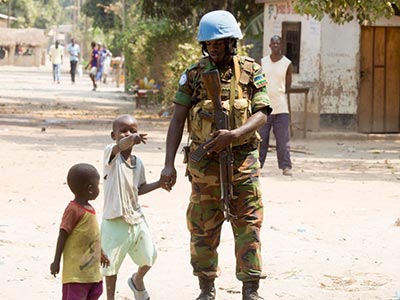 Course Fee:
All expenses are covered by the Centre. The course is fully sponsored by Switzerland.
Tuition, air travel from and to the nearest international airport, visa fees, food and accommodation will be provided by the KAIPTC.
However, participants will have to bear the cost for their private travel and health insurance.
Terms and Conditions:
IMPORTANT NOTICE: the attendance of selected INTERNATIONAL participants will only be confirmed if, BY 02 OCTOBER 2020, Ghana's borders will be open again, international flights at reasonable prices will have resumed, and if no compulsory quarantine will be required. Selected international participants will be contacted individually.
The course is residential and course participants will be accommodated at the KAIPTC.
The course is conducted in English. There will be no interpretation in other languages.
The KAIPTC and the Swiss Government will NOT accept responsibility for individual medical, travel or other insurance. Participants are strongly advised to arrange their own insurance coverage for the duration of the training.
No-shows or last-minute cancellations: resulting costs are to be borne by the participant.

| | |
| --- | --- |
| | In short |
| Course Date/Duration | 02 – 13 November 2020 (two weeks) |
| Course Capacity | 20 participants |
| Target Group | Civilian, Police and Military personnel (see details below) |
| Course Language | English |
| Application Deadline | 27 September 2020 |
Background
The changing nature of armed conflicts has resulted in an increased civilian-combatant interface, to the extent that contemporary conflicts have been referred to as 'wars among the people'. Civilian populations bear the greatest brunt of today's complex and intractable conflicts. This changing nature of conflicts has necessitated both doctrinal and operational shifts in peace operations.
Protection of Civilians has increasingly become an integral component of contemporary peace operations. Emerging international support to the 'Responsibility to Protect' norm notwithstanding, peacekeepers and other actors involved in peace support operations are often not adequately prepared or trained to deal with the daunting task of protecting civilians.
Course Aim
The aim of the PoC course is to enhance the capacity of participants for the effective implementation of PoC mandates in Peace Operations, in order to mitigate the effects of conflicts on civilians.
Target Group
The target group includes personnel currently deployed or likely to be deployed in UN, AU or ECOWAS peace operations, at the operational level (for military officers: Maj, Lt Col, Col or equivalent; for police officers: ASP to CSUPT or equivalent; for civilian staff: P3 to P5, Directors, or equivalent), and implementers of the Protection of Civilians mandate.
The selection process will emphasize the presence of a relevant number of arms-bearers (member of the armed and security forces). This because of the latent opportunities and threats they might embody: they have the means to protect civilians but also the potential to harm them.
Priority will be given to applicants from the ECOWAS region.
We strive for a balanced representation of genders, nationalities, missions and components.
Course Content
The PoC course combines theoretical and practical sessions on the following modules/topics:
Background and History of PoC
Overview of Contemporary UN, AU/REC Peace Operations
UN/AU/REC's Approach to PoC
Normative Frameworks of PoC
Security Sector Reform (SSR), Responsibility to Protect (R2P) and PoC
Gender and PoC
Military Planning Process and PoC
PoC in Practice: Practitioners' Perspectives, Challenges and Controversies, Scenario-based Exercises
Teaching Method
The course will be delivered through a combination of lectures, case studies, small group works and exercises. The "Problem-Based Learning Approach" will be used in the delivery of the course: participants will play a very active role under the guidance of an experienced team of facilitators.
Selection Process
The course generates a lot of interest and a high number of applications. This will make the selection very competitive. The process will be as following:
the selection board will decide on selected and waitlisted applications (begin of October 2019);
selected candidates will be asked to confirm their seats bindingly;
should not all selected candidates confirm their seats, these will be offered to candidates on the waitlist, on a "first come first served" basis.
Contact at KAIPTC
For course content issues
Ralf LUENSMANN,
Lt Col, Swiss Armed Forces
Course Director PoC

Office: +233 (0) 302 71 82 00 Ext. 1315
Cell: +233 (0) 548 10 00 78

Email: ralf.luensmann@kaiptc.org


Until September 15th, please use this email address:

federico.leonardi@kaiptc.org