Network Forensics And Incident Response
Peace and Security Studies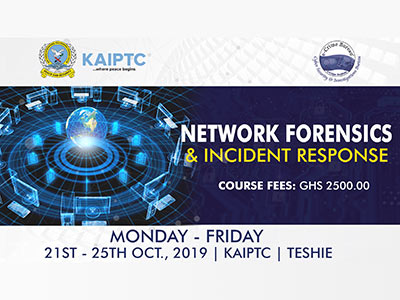 Course Fee:
Local (Ghanaian-Based Citizens) – GHS 2500.
International Delegates – USD 1500
Terms and Conditions:
Admission to the Certificate Programme requires a minimum of a tertiary degree or diploma from relevant academic or professional institutions.
Practitioners with experience without a formal academic qualification may also apply.
Summarised Course Objective
The integration of technology-driven solutions in business operations has increased the risk exposure of IT systems to network breaches. In many cases, the inability to deal with the breaches have led to reputational damages, financial losses, denial of access to key operational components of the IT infrastructure and in extreme situations collapse of businesses.  By analysing network packets, the investigator can easily identify compromised systems or profile malicious actor(s) on the network from a centralised point.
This laboratory-based training programme has been put together to support organisations to address existing challenges associated with network investigations and incident response. The training programme will also help prepare participants for the Advanced Level Course i.e. the Certified Network Forensics Examiner (CNFE) by Mile2. 
Who should attend?
The course is designed for Network and System Administrators, IT Audit personnel and IT practitioners as well as risk, compliance and operations executives – both in the public and private sectors.
Course Modules
The course covers the following modules:
Module 1 – Introduction to Network Forensics
Module 2 – Network Forensics Investigative Methodology
Module 3 – Packet Capture and Analysis
Module 4 – Network Intrusion Analysis
Module 5 – Incident Management and Defence
Course Duration/Schedule
Date: October 21 – October 25, 2019.
Application deadline
Wednesday, 16th October 2019
How to Apply
Visit the following website to apply online or download the Application Form.
Website:
For further details about the course, contact the registry on:
Tel: 050 130 4836/050 143 6340
Or: 020 675 2054/030 299 9981
Email: