Multidimensional Peace Operations Course (MDPO) 19
Peace Support Operations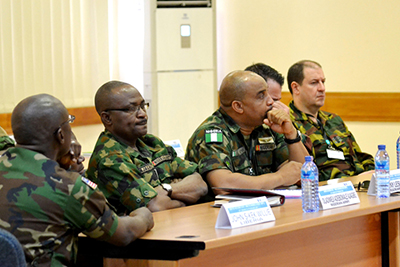 Course Fee:

See Terms and Conditions
Terms and Conditions:
The following costs will be covered by the Government of Switzerland: facilitation fees, air travel from international airport, food and accommodation. Visa costs as well as travel to an international airport will be borne by the participant.
No-shows or cancellation of confirmed participants: resulting costs are to be borne by the participant..
Call for Applications: Multidimensional Peace Operations Course (MDPO) 19
Click here to read the full detail about the course.
Course date
24th of June – 05th of July 2019
Course Aim
The aim of the Multidimensional Peace Operations Course (MDPO) is to provide military, police and civilian personnel with the knowledge and skills of operational level planning, coordination and conduct of MDPO in order to enhance the efficiency and effectiveness of the components in Peace Operations.
Target Group
The target group includes Actors from the Military, Police, Civilian Mission Staff, Humanitarian and Civil Society on operational level (CPT to LTC, ASP to C/SUPT and managerial level/positions e.g. P3/P4, Assistant Director, Directors).
Course Content
The Nature of Conflicts
Frameworks for Peace Operations
Introduction and Concept of Peace Operations
Gender and Peace Operations
DDR in Peace Operations
Security Sector Reform (SSR) and Peace Operations
In-Mission Negotiations, Mediation & Facilitation
Responsibility to Protect (R2P) and Protection of Civilians (POC) in Peace Operations
Integrated Mission Support
Planning in Peace Operations
UN Policy on Civil-Military Coordination (CIMIC)
Mine Awareness and IEDs in Integrated Missions Support
Respect for Diversity
MDPO in Practice
Teaching Methods
The course will be delivered through a combination of lectures, case studies, small group works and exercises among others. The "Problem-Based Learning Approach" will be used in the delivery of the course; hence, participants will play a very active role under the guidance of an experienced team of facilitators.
Selection
We will preselect roughly 15 applicants of each target group (Military, Police and Civilian). The final number of course participants will be max. 32 participants.
Contact
Training Coordination Officer
Mrs Marylyn Agblor
Tel. +233 (0) 302 718200 Ext. 1012
Fax. +233 (0) 302 718201
Email: marylyn.agblor@kaiptc.org or training@kaiptc.org
Course Director
Maj Adrian Zurmuehle (Swiss Armed Forces)
Course Director
Tel.: +233 (0) 302 718200 Ext. 1315
Mob: +233 (0) 558 490 632
Email: adrian.zurmuehle@kaiptc.org