Multidimensional Peace Operations Course (MDPO 21)
Peace Support Operations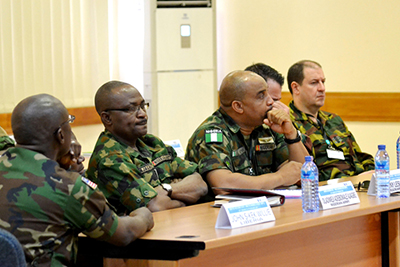 Course Fee:
The course is fully sponsored by the Swiss Government.
Tickets, tuition, accommodation, food and transportation will all be provided by KAIPTC.
However, participants will have to bear the cost for their travel and health insurance.
Terms and Conditions:
IMPORTANT NOTE: International participants will only be invited to the course if the pandemic situation allows international travel without major restrictions and significant additional cost. The decision on whether to hold the course internationally will be communicated no later than 28 May 2021.
The course is conducted in English. There will be no interpretation in other languages.
As part of the COVID-19 measures by the KAIPTC, all participants are to travel with a travel medical insurance covering COVID-19 treatment, and must be valid for additional two weeks after course end date. COVID-guidelines of the centre must be strictly followed. The KAIPTC and the Swiss Government do NOT accept any responsibility for medical treatment and travel or other insurance.
| | |
| --- | --- |
| | In short |
| Course Date/Duration | 28 June – 09 July 2021 (two weeks) |
| Course Capacity | 20 participants |
| Target Group | Civilian, Police and Military personnel (see details below) |
| Course Language | English |
| Application Deadline | 21 May 2021 |
Background
Already 72 years have passed since the establishment of the first UN peacekeeping Mission in 1948, and over time the size and scope of peace operations has expanded dramatically. As peacekeeping has evolved, a growing number of operations have become multidimensional in nature. They now usually include a broad range of components: military, police, civil affairs, political affairs, rule of law, human rights, child protection, humanitarian assistance, DDR, public information, gender, and many more. There are also a number of areas, such as Mission support and security and safety of personnel, which remain essential to every Mission, regardless of its particular mandate. It is therefore critical that all actors involved in peace operations, particularly at the operational level, have a good understanding of Mission components, mandates, and structures, and of the related challenges and opportunities.
Course Aim
The aim of the course is to equip civilian, police and military personnel with the knowledge and skills required to plan, coordinate and conduct multidimensional peace operations at the operational level in order to increase the efficiency and effectiveness of each component involved in peace operations.
Target Group
The target group includes mainly personnel currently deployed or likely to be deployed in UN, AU or ECOWAS peace operations, at the operational level (for military officers: Maj, Lt Col, Col or equivalent; for police officers: ASP to CSUPT or equivalent; for civilian staff: P3 to P5, or equivalent).
Course Content
The MDPO course combines theoretical and practical sessions on the following modules/topics:
The Nature of Conflicts
Frameworks for Peace Operations
Introduction and Concept of Peace Operations
Gender and Peace Operations
Disarmament, Demobilization and Reintegration (DDR) and Peace Operations
Security Sector Reform (SSR) and Peace Operations
In-Mission Negotiations, Mediation & Facilitation
Responsibility to Protect (R2P) and Protection of Civilians (PoC) in Peace Operations
UN Policy on Civil-Military Coordination (CIMIC)
Mine Awareness and IEDs in Integrated Missions Support
Media in Peace Operations
Respect for Diversity
Planning in Peace Operations
Integrated Mission Support
MDPO in Practice
Teaching Method
The course will be delivered through a combination of lectures, case studies, small group works and exercises. The "Problem-Based Learning Approach" will be used in the delivery of the course: participants will play a active role under the guidance of an experienced team of facilitators.
How to Apply
Interested applicants are requested to kindly fill and submit an online application form.
Access the application by pressing the "How to Apply" button.
The course usually attracts a lot of interest. A selection committee decides on the final admission to the course by 28 May 2021.
Contact at KAIPTC
For course content issues
Ralf LUENSMANN
Lt Col, Swiss Armed Forces
Course Director MDPO
Office: +233 (0) 302 71 82 00 Ext. 1315
Cell: +233 (0) 548 10 00 78
Email: ralf.luensmann@kaiptc.org