Maritime Security and Transnational Organised Crime Course (MSTOC 18 – 2)
Peace and Security Studies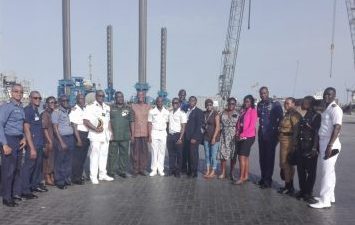 Course Fee:

This course is fully funded.
Terms and Conditions:
Cost of travel, accommodation and feeding for participants will be covered by the KAIPTC. (Sponsored by the German Ministry of Defence and Ministry of Foreign Affairs).
Visa costs as well as travel to an international airport will be borne by the participant.
The course will be delivered in English and in French.
Course Fee: All tuition expenses for the course participants are covered by the Centre as the course is sponsored by Germany (tuition will be provided at the Centre for the duration of the programme).
There will be translation in English and French language.
The course is residential and course participants will be accommodated at KAIPTC.
All nominated participants will have to show proof of adequate health insurance coverage prior to the commencement of the course. KAIPTC or the German government will not bear any costs caused by illness or accident.
No-shows or cancellation of confirmed participants: resulting costs are to be borne by the participant.
Course Aim
The overall aim of the course is to train security sector actors in the domain of maritime security and explore its potential links to transnational organized crimes. The security sector actors will be trained and updated on the newest trends and issues in the rule of law regarding maritime security and transnational organized crime in Africa generally, and West-Africa specifically. The course also aims to establish and foster regional cooperation and coordination between individuals and institutions engaged in maritime security and transnational crimes.
Read full details about the course
Target Group
Set at the operational level, the course targets a mixed group of middle level security sector practitioners from the following:
ECOWAS Maritime Security Structure officials.
Government officials, operational level staffers of legislative bodies/policymakers.
Security sector practitioners (Key representatives from civil society, Police, Border Police, Maritime Police, Navy, Militaries, Gas and Oil Platform (GOPLAT) Industrialists, intelligence actors, oil traders, and maritime/shipping/storage security officers) directly involved in operational planning and implementation of policies.
Individuals and researchers in the area of maritime border security.
Course Content
The course is planned to cover the following modules:
Introduction to West Africa and it's security challenges
Legal Frameworks on Maritime Security
Maritime Terrorism /Piracy/Armed Robbery
Illegal, Unreported and Unregulated Fishing (IUU)
Introduction to Transnational Organized Crimes, Money Laundering and Drug Trafficking
Human Trafficking / Migrant Smuggling
Illegal Migration by Sea
Small Arms Trafficking / Proliferation
Criminal Investigation / -Intelligence
Maritime Environmental Crimes
To complement the classroom work, there will also be an educational tour to the following places:
The Vessel Traffic Monitoring and Information System (VTMIS) of the Ghana Maritime Authority, Accra;
Tema Harbour;
The Multinational Maritime Coordination Centre (MMCC) at the Christianborg Castle Osu, Accra;
Selection process
Course Capacity: 30 participants
The selection process will strive to achieve gender balance of participants as much as possible. Interested applicants are requested to kindly fill and submit an online application form. Access the application form here.
Contact at KAIPTC
Mrs Marylyn Agblor
Training Coordination Officer
Tel.  00 233 (0) 302 718200 Ext. 1012
Fax. 00 233 (0) 302 718201
Email: marylyn.agblor@kaiptc.org
Email: training.coordination@kaiptc.org
Cdr Solomon Asiedu-Larbi
Course Director
Tel.: 00 233 (0) 302 718200 Ext. 1102
Mob: 00233244260313
Email: Solomon.Asiedu-Larbi.kaiptc.org