ECOWAS/KAIPTC Long Term Election Observation Training Course (LOT) 2019
Conflict Management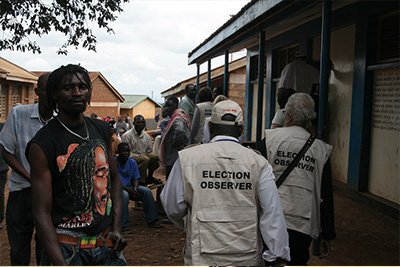 Course Fee:

The course is fully sponsored by GIZ (airfare, accommodation, feeding and tuition)
Terms and Conditions:
Participants shall show proof of medical and travel insurance cover for duration of training in Ghana.
Kaiptc will be responsible for participants' accommodation and feeding for the duration of programme
English with French translation will be used for facilitation at the course.
Course Goal
The course aims to develop the capacity of personnel in the military, police, civil society and governmental agencies of Ecowas member states to conduct long term election observation in the region and beyond.
Read the full course review here.
Target Group
Persons with knowledge and experience in law, politics, gender, peace and security, media, Information and communication technology, electoral operations, human rights, conflict management
Participants should have completed a short term election observation training with field experience
Balanced gender representation
Course Content
The course aims to provide knowledge and skills in election observation methodology to assess pre- election, election and post-election periods.
Institutional perspective on long term election observation mission
International and regional obligation and commitment for elections
Election principles and framework for Analysis
Structure and roles of LTEOM and LTO Activities
Elections in peacebuilding initiatives
LTO reporting and briefing
Code of Conduct for LTOs
Security in Elections
Technology in elections
Technology in LTO activities
Selection Process
Be a West African national
A graduate of the Ecowas / Kaiptc EOT and EMTcourses at Kaiptc or any other recognized training institution
Non West African working in relevant fields
Experience on short term election observation for Ecowas or other election observation group
Recommended by the Ecowas Electoral Assistance Division
Contact at KAIPTC
Mrs Marylyn Agblor
Training Coordination officer
Tel: 00 233 (0) 302 718200 Ext 1012
Fax: 00 233 (0) 302 718201
Email:marylyn.agblor@kaiptc.org
Email:training.coordination@kaiptc.org
Wg Cdr Christian Eshun
Course Director
Tel: 00 233 (0) 302 718200 Ext 2130
Mob: 00 233 (0) 243667759
Email: christian.eshun@kaiptc.org