LOGISTICS IN PEACE SUPPORT OPERATIONS COURSE (LOGPSOC)
Peace Support Operations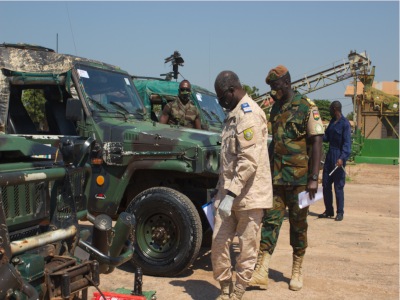 Course Fee:

The course is free however, participants who will require visa on arrival will be responsible for the cost of their visas. KAIPTC shall be responsible for participant's external (within Africa) travel, accommodation and feeding during the duration of the course.
Terms and Conditions:
• Every participant will have to prove adequate health insurance coverage, which should include Covid 19 before travelling to the Centre. Additionally, participants who are either not vaccinated or not fully vaccinated must possess a COVID-19 negative PCR test from an accredited laboratory in the country of origin. The test should have been done not more than 72 hours before the scheduled departure time from the country of origin. KAIPTC will not bear any health or accident costs for any participant.
| | |
| --- | --- |
| | In short |
| Course Date/Duration | 05 June – 16 June 2023 |
| Course Capacity | 30 participants |
| Target Group | See details below |
| Course Language | English only |
| Application Deadline | 24 March 2023 |
Introduction
Africa has suffered from decades of armed conflict, governmental repression and violence. This has brought many of its economies to the brink of collapse resulting to humanitarian casualties and concerns. Each of these conflicts has its own dynamics and complexities. The shifting forms of conflict and violence on the continent to which the AU and ECOWAS are expected to respond to, calls for realignment of PSO to deal more effectively with these existing and emerging threats. The African Standby Force (ASF) concept was that of a quick reaction capacity that would enable Africans to respond swiftly to crisis unhampered by any heavy political and instrumental burdens. The ASF is based on standby arrangements with Africa's five Regional Economic Communities (REC).  The concept envisaged the identifying, preparing and positioning personnel on standby in their countries of origin and ready with all logistics for rapid deployment. However, experience so far indicates PSO are rather complex with respect to logistic support. No two missions are the same, as the support to the AU/RECs from host nations, troop contributing countries and contractors differs. Mobilization of personnel, material, and field support services necessary to ensure that missions are (for the most part) self-sufficient and successful under a wide range of post-conflict conditions is a big challenge. Training Needs Assessment conducted at the AUC and ECOWAS by the KAIPTC identified that, preparations toward deployment to PSO by Troop Contributing Countries (TCC), challenges in sustaining Contingent owned Equipment (COE) to meet established criterion for reimbursement and management of COE in the missions were some of the specific problems. These challenges are because of lack of adequate human resource capacity and understanding of the concept of managing logistics in such situations.
Course Rational
The Logistics in Peace Support Operations Course designed and developed by KAIPTC in collaboration with the AU and ECOWAS. The course is sponsored by the German Government to train and enhance the capacity of logistics planners and managers on the African continent concerned with the planning, management and liquidation of logistics for PSO.
Course Aim
The aim is to provide participants with knowledge, skills and attitudes to plan, employ, deploy and liquidate logistics support for peace support operations.
Objectives
At the end of the course the participants should be able to:
Understand the AU and the Regional bodies and their support system.
Understand the ASF and ESF architecture and their operations.
Know COE requirements, management and the system of reimbursements.
Understand how SOFA & MOUs are initiated and how it affects the support system.
Understand the logistics planning process and be able to plan for a Peace Support Operation.
Understand the logistics support requirement for PSO.
Course Content
Introduction to AU/ RECs PSO.
Gender Considerations in PSO Logistics.
Introduction to the African Standby Force.
Introduction to ASF Logistics Concept.
Logistics Planning Considerations.
Mission Administration and Logistics Management.
Integrated Support Services – Services, Structures, Functions & Procedures.
Medical Logistics and Administration.
Humanitarian Action and Natural Disasters Support (HANDS) & Complex Emergencies.
Logistics Support for Rapid Deployment Capability (RDC).
Environmental Issues in PSO – Logistics Perspectives.
Logistics During Transition.
Logistic Simulation Exercise – Carana.
Teaching Methodology
The methodology would be Interactive presentations, group work and case studies. The Course is structured to combine theoretical and practical sessions focusing on relevant PSO requirements, as well as a combination of plenary presentations, and facilitated syndicate discussion.  Following the completion of each module, participants will be encouraged to participate in, group discussions to further their understanding of the concept's more nuanced arguments.
Target Group
The course is open to individuals and organizations whose members/staff training shall have the following target audiences:
Primary Training Audience – Core group of individuals drawn from:
Strategic Level AU & RECs/RMs PLANELMs/Relevant HQ Departments.
Operational Level RECs/RMs PLANELMs/Relevant HQ Departments.
Surge Capacity/Rosters/Standby Capacity.
Operational Mission Level Core Mission Support Staff.
Contributing Country Mission Support Cells.
Secondary Training Audience – Core group of individuals drawn from:
Trainers from designated Training Centers of Excellence.
Permanent Missions to AU/RECS/RM as appropriate.
Female participants are particularly encouraged to apply.
How to Apply
Interested applicants are requested to kindly click on the link below to apply
Contact
For administrative issues
For course content issues

only



Mrs Marylyn Agblor
Training Coordinatior
Tel. 00 233 (0) 302 718200 Ext. 1012
Fax. 00 233 (0) 302 718201
Email: marylyn.agblor@kaiptc.org
Col Daniel Amenyo Agbekor
Course Director
Tel: +233 (0) 302 718 200 Ext. 1035Fax. 00 233 (0) 302 718201