IT AUDIT & DIGITAL FORENSICS (FOR NON-IT PROFESSIONALS) TRAINING
Conflict Management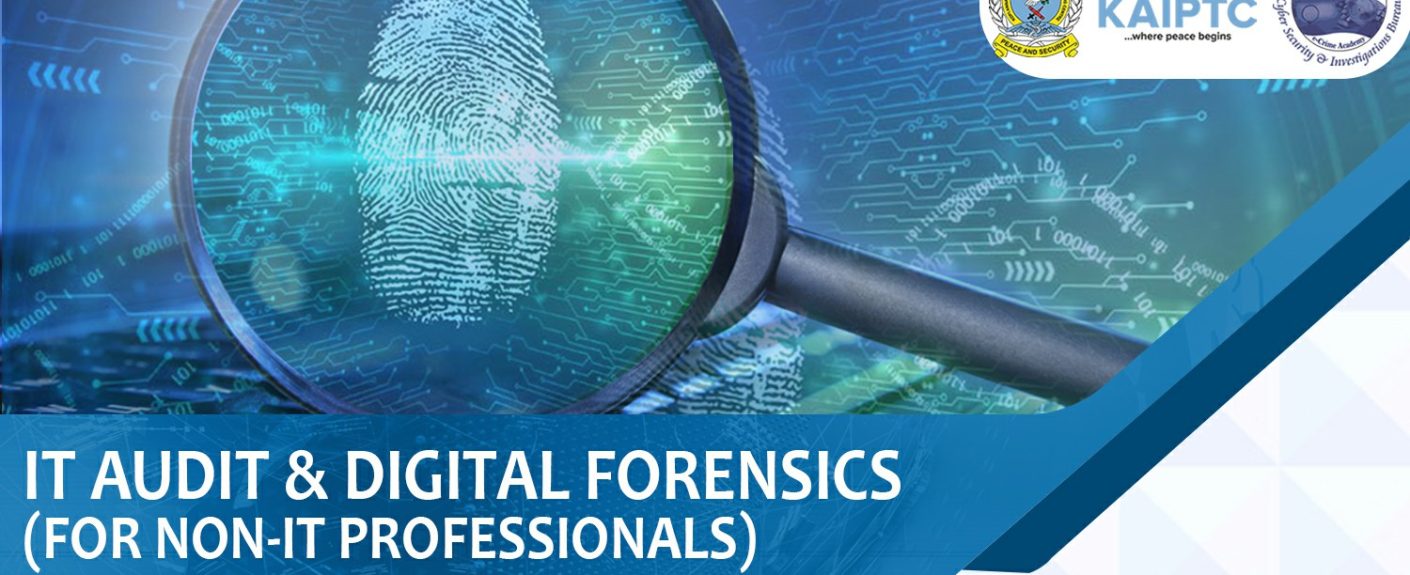 Course Fee:

Each participant shall be required to pay a non-refundable fee of ¢2,000 GHS (two thousand Ghana cedis). Participants who are coming from outside Ghana would have to make their own travel and accommodation arrangements. Those who will require a visa on arrival will also be responsible for the cost of their visas.
Terms and Conditions:
• The course will be conducted ONLY in English; • Every participant should be fully vaccinated with proof. Those coming from outside Ghana should have proof of adequate health insurance coverage, which should include Covid 19 before travelling to the Centre. KAIPTC will not bear any health or accident costs for any participant.
In short
Course Date/Duration
7 November- 9 November 2022
Course Capacity
25 participants
Target Group
The target groups include the following:

African Union, ECOWAS, UN Missions in Africa and other Regional Economic Communities (RECs).

 

a.      Management Executives

b.     Accountants & Finance Officers

c.      Compliance Heads/Officers

d.     Risk Managers/Officers

e.      Internal Control Heads/Officers

f.      Internal Audit Heads/Officers, etc.

Course Language
English
Application Deadline
3rd November 2022
Category
(please choose one)
IT Audit, Non-Technical
Introduction/Background
The audit of IT systems to optimise the efficiency of organisations has become important for management teams to exercise oversight on highly sophisticated IT systems, applications, and databases given recent incidents of cyber-attacks due to inherent system vulnerabilities. This course is designed to provide non-IT professionals with fundamental skills to evaluate, examine and verify applications, systems and processes as well as identify and correct gaps in existing controls. It will typically explain key components of IT environments, concepts, and the application of digital forensic techniques to investigate system-related breaches. The programme will also provide non-IT staff with the skills to analyse IT Audit reports for effective decision-making at the management level and ensure IT systems meet expected audit standards.
Target Group
IT Managers/Technical Officers, CISO, Information Security Professionals, Forensics Auditors, Risk Managers/Analysts, Security Managers, and other individuals interested in cybercrime prevention and detection.
Modules of the course
Introduction to IT Audit & Investigations
IT-related Attacks & Audit Response
IT Audit Processes
Governance, Risk and Compliance in IT Audit
Internet Terminologies and Computer Networks
Introduction to Digital Forensic and Incident Handling
User Activity Auditing
System/Application Log Analysis and Event Monitoring
Email System Auditing and Analysis
Web Application Auditing
Mobile Application Auditing
IT Audit & Digital Forensic Reporting
 How to Apply
Interested applicants are kindly invited to click on the registration link below in order to fill and submit the online application form to training@e-crimebureau.com.
Registration Link:
https://forms.office.com/r/RYekheAXiM
Contact
Mary Anna Abakah
Lead, Training
e-Crime Bureau
Tel. 00 233 (0) 0302 999 981
Mobile. 00 233 (0) 50 1304 836 / 50 788 8899
Email: training@e-crimebureau.com
Mrs Marylyn Agblor
Training Coordination Officer
Tel.  00 233 (0) 302 718200 Ext. 1012
Fax. 00 233 (0) 302 718201
Email: marylyn.agblor@kaiptc.org
Email: training.coordination@kaiptc.org
Col Daniel Amenyo-Agbekor
Course Director
Tel.  00 233 (0) 302 718200 Ext. 1035
Fax. 00 233 (0) 302 718201