INTELLIGENCE SUPPORT FOR PEACE OPERATIONS (ISPO) COURSE (ISPO 22)
Peace and Security Studies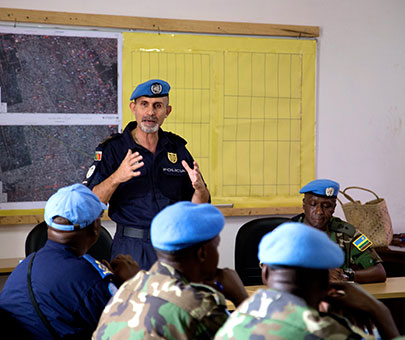 Course Fee:

There will be no course fees. All expenses relating to the course will be covered by the Centre (KAIPTC).
Terms and Conditions:
The course is residential and course participants will be accommodated at KAIPTC. · Feeding, accommodation and tuition will be provided at the Centre for the duration of the programme. · The course will be delivered in English ONLY · The following costs will be covered by the Government of Switzerland: facilitation fees, air travel from international airport, visa costs, food and accommodation. · All nominated participants will have to show proof of adequate health insurance coverage prior to the commencement of the course. KAIPTC or the Swiss Confederation will not bear any costs caused by illness or accident. · No-shows or cancellation of confirmed participants: resulting costs are to be borne by the participant.

| | |
| --- | --- |
| | In short |
| Course Date/Duration | 05th – 16th September, 2022 (two weeks) |
| Course Capacity | 25 participants |
| Target Group | Military & Police pers, AU ECOWAS & UN Agencies staff, NGOs, Government Civilians with some basic Intel-background |
| Course Language | English |
| Application Deadline | 10th July 2022 |
The Kofi Annan International Peacekeeping Training Centre (KAIPTC), Ghana – sponsored by Switzerland – will run a two weeks Intelligence Support for Peace Operations (ISPO) Course (2022).
KAIPTC INVITES APPLICATIONS FOR ADMISSION TO THE INTELLIGENCE SUPPORT FOR PEACE OPERATIONS (ISPO) COURSE (2022)
Course Outline
The Kofi Annan International Peacekeeping Training Centre offers a two-week course on Intelligence Support for Peace Operations (ISPO) Course from 5th – 16th Sep, 2022. This course provides the opportunity for future or experienced actors involved in peace operations to enhance their own professional skills in Intelligence Management (IM), with a goal to enhance the effectiveness of African personnel engaged in future peace operations. Intelligence management in times of crises is a critical issue considering the number of peace missions that are currently ongoing in Africa. This course will also help with the creation of a roster of trained personnel able to fill IM posts in missions e.g. UN and related areas as well as the African Standby Force (ASF) at Regional levels.
Course Aim
The aim of the course is to promote greater situational awareness through appropriate intelligence management methodologies in a multi-stakeholder environment in order to improve the quality of information provided to key decision makers in crisis operations, in order to enhance the effectiveness of those personnel engaged in future operations.
Target Group
The principal target audience for this ISPO course will be predominantly middle-level AU and ECOWAS staff, personnel from Governments, UN, aid agencies, NGOs, Military and Police with some basic Intel-background, to understand each other's operational role better, and thus improve cooperation in collecting, assessing and preparing information for better management and decision making at operational levels of an international multi-stakeholder peacekeeping and peace building operation. Selection will strive to achieve gender balance of participants as much as possible; and nominating participants who are / will be serving in current West African UN Missions.
Course Content
Objective week 1: To equip participants from civilian, police and military peace operations with intelligence skills and procedures to better support decision making and contribute to mission success.Content: Conflict Analysis, causes and consequences; Information concepts; IM in Decision making process; Early warning; Intro to JMAC; Information Cycle from collection to evaluation.
 Objective week 2: To train Participants in how to apply intelligence skills acquired in driving decision making and to assess participants understanding of, and ability to apply intelligence concepts taught in week 1.Content: Information reporting, – writing and drawing conclusions; Information Preparation of the Area of operation including Simulation Exercise; country / area information study.
Presentations, discussions and Tabletop Exercises.
How to Apply
Interested applicants are requested to kindly click on the "How to Apply" button to kindly fill and submit the online application form.
Contact at KAIPTC
For administrative issues
For course content issues
Mrs Marylyn Agblor
Training Coordination Officer
Tel. 00 233 (0) 302 718200 Ext. 1012
Fax. 00 233 (0) 302 718201
Email: marylyn.agblor@kaiptc.org
Col. Michael Kwami
Course Director
Tel.: 00233 (0) 244 222730
Tel.: 00233 (0) 302 718200 Ext. 1060
Email: Michael.Kwami@kaiptc.org