Integrated Civilian-Military Co-ordination (ICIMIC)
Peace Support Operations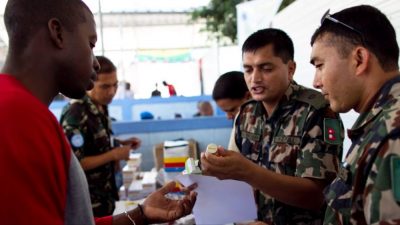 Course Fee:

$500.00 (Non-refundable commitment fee)
Terms and Conditions:
The course will be conducted ONLY in English
Maximum intake on the course is 30 participants
KAIPTC shall be responsible for participants travel (within Africa) accommodation and feeding during the duration of the course.
Participants who will require visa on arrival will also be responsible for their visa fees.
Every participant must have proof of adequate health insurance coverage before travelling to the Centre. KAIPTC will not bear any health or accident costs for any participant.
Course Aim
The aim of the course is to train peacekeepers and civil society actors in civil–military coordination and cooperation concepts and principles. This is to improve civil-military relations with humanitarian and development actors, as well as local communities, by enhancing the knowledge, skills and attitudes of participants for effective performance of CIMIC functions in an integrated peace operations environment.
Read full details about the course
Target Group
The principal target audience for the ICIMIC Course 2018 will be predominantly military, police, civilian mission staff and civil society actors of the rank of Captain to Colonel and Police/Civilian equivalent. Selection will strive to achieve gender balance of participants as much as possible. Prospective female participants are encouraged to apply for the course.
Course Content
Peacekeeping Operations Environment
International Conflict Management  Response
Peacekeeping principles and Component roles
Integrated Mission Support
Humanitarian principles
Use of Military Escorts
Human Rights
Mission Support
ICIMIC Concepts
Negotiation/ Mediation
Women/Gender/SGBV and SEA
How to Apply
Only fully completed applications that are submitted via the application portal will be considered.
Please click here to apply
Contact at KAIPTC

Marylyn Akabutu
Training Coordinator
Tel: +233 (0)302 718 200
Fax: +233 (0)302 718 201
Mail: marylyn.akabutu@kaiptc.org
Seth Agordekpe
Colonel
Course Director
T:  +233 (0)302 718 200
Mail: Seth.Agordekpe@kaiptc.org