HOSTILE ENVIRONMENT AWARENESS TRAINING (HEAT 2) Course 2022
Peace Support Operations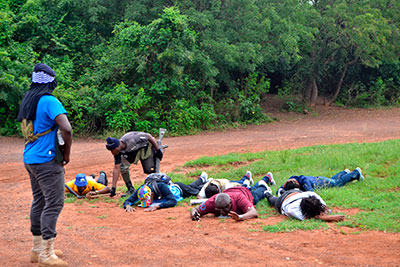 Course Fee:

§ All expenses are covered by the KAIPTC. The course is fully sponsored by the German Government. § Tuition, air travel from and to the nearest international airport, visa fees, food and accommodation will be provided by the KAIPTC. § Max. three (3) COVID-19 tests will be covered for international course participants (i.e., test 1: taken in home country before departure to Ghana, test 2: on arrival at Kotoka International Airport (KIA) in Ghana and test 3: taken in Ghana before departure to home country). § However, participants will have to bear the cost for their private travel and health insurance. Additionally, participants are expected to bear their own visa arrangements costs.
Terms and Conditions:
· IMPORTANT NOTE: International participants will only be invited to the course if the pandemic situation allows international travel without major restrictions and safety concerns, · The course is conducted in English and French. There will be simultaneous interpretation. · As part of the COVID-19 measures by the KAIPTC, all participants are to travel with a travel medical insurance covering COVID-19 treatment, and must be valid for additional two weeks after course end date. COVID-guidelines of the centre must be strictly followed. The KAIPTC and the German Government do NOT accept any responsibility for medical treatment and travel or other insurance. · Only participants fully vaccinated against COVID-19 will be allowed on the course. · This course comes with a rigorous field exercise and not encouraged for pregnant women of persons with peculiar medical challenges or blood pressure problems.
| | |
| --- | --- |
| | In short |
| Course Date/Duration | 24 – 28 October 2022 (one week, 5 working days) |
| Course Capacity | 20 – 30 participants |
| Target Group | Civilian, Police and Military personnel (see details below) |
| Course Language | English and French (simultaneous interpretation) |
| Application Deadline | 02 September 2022 |
Background
Armed conflicts has been prevalent the world over, especially the African continent is faced with numerous of these conflicts and this hinders development, thereby affecting the continents' peace, democracy and prosperity. The eruption of conflicts begins the mandating of mission to restore normalcy.
Mission environments are mostly different from the regular work environments people are accustomed to. Much as it is desirable to have peace around us, the environments within which we work is an enabler or a dream killer. Mission environments are typically not very conducive, talk about general living conditions, weather, conflict, food, language, epidemic, exploitation among others. Some of these situations are hostile and people must learn survival skills if deployed in such areas.
The HEAT course therefore, is a training meant to provide military, police and civilians with the requisite knowledge and skills needed to work and survive in crises areas.
Course Aim
This course aims at equipping participants with knowledge of the various dangers in hostile environments and enhancing their skills/capacities on how to react appropriately when deployed in a hostile environment.
Training Objectives
The overall training objectives for the HEAT course are to:
i. Enhance participant's knowledge on hostile mission environments.
ii. Increase participant's skills needed to operate in a hostile PSO environment.
iii. Equip participants with requisite knowledge/skills for survival and appropriate actions in critical situations.
Target audience
This training is target at 20-30
i. Personnel (Mil/ Pol/ Civ.) deployed in crisis areas
ii. Personnel preparing to deploy in crisis areas
iii. MS Foreign Affairs/Embassy (nomination)
Methodology
Participants will play an active role under the guidance of an experienced team of facilitators.
The HEAT will be delivered with the Collaborative Problem Based Learning (CPBL), i.e. the KAIPTC training methodology through the use of:
i. Lectures
ii. Participatory discussions
iii. Power point/presentations
iv. Simulation
v. Practical sessions / field exercise (TBC depending on COVID-19 situation)
Course Content
The HEAT training combines theoretical and practical sessions on the modules/topics below:
i. Introduction to contemporary PSO
ii. Living in and working conditions in a mission environment
iii. Stress Management
iv. Behaviour in critical situation
v. Negotiations
vi. Hostage taking
vii. First aid
viii. Personal health and hygiene
ix. IED / Mine Awareness
x. IED/Mine awareness practical
xi. Introduction to map reading
xii. Voice Procedure and radio communication
xiii. Practical Exercise – simulation to manage threats like rioting, protests and demonstrations / kidnapping, hostage taking, and survival (TBC)
How to Apply
Interested applicants are requested to kindly fill and submit an online application form. Access the application form using the link that will be provided and by pressing the "How to Apply" button. The course usually attracts a lot of interest. A selection committee decides on the final admission to the course.
Selection Process
The selection process will involve submission of bio-data through the KAIPTC application portal after which applicants will be screened and shortlisted. The selection process will be done by a selection committee from the centre.
Contact
Mrs Marylyn Agblor
Training Coordinator Tel. [233 (0) 302 718200 Ext. 1012] Fax. [233 (0) 302 718201]
Email: marylyn.agblor@kaitpc.org or training.coordination@kaiptc.org
Colonel Abdullateef Idris
Course Director Email: abdullateef.idris@kaiptc.org
Telephone: [233 (0) 302 718200 Ext 1316]
Mobile: [233 (0) 506670544]