Hostile Environment Awareness Training (HEAT20-1)
Peace and Security Studies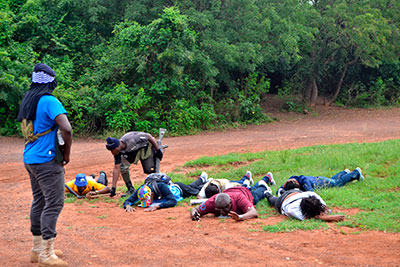 Course Duration:

one week (5 working days) between 18 – 22 May 2020.

Application Date:

- Mar 31, 2020
Course Fee:
This course is a fully funded training.
Tickets, tuition, accommodation, food and transportation will all be provided by the KAIPTC with support from The German Government.
However, participants are expected to bear their own visa arrangements costs.
Terms and Conditions:
Participants are expected to bear their own visa arrangements costs
| | |
| --- | --- |
| | In short |
| Course Date/Duration | 18 – 22 May 2020 |
| Course Capacity | 30 participants |
| Target Group | Personnel (Mil/ Pol/ Civ.) deployed or preparing to deploy in crisis areas |
| Course Language | English |
| Application Deadline | 31 March 2020 |
Course Advertisement for The Hostile Environment Awareness Training (HEAT 20-1)
Background
Armed conflicts has been prevalent the world over, especially the African continent is faced with numerous of these conflicts and this hinders development, thereby affecting the continents' peace, democracy and prosperity. The eruption of conflicts begins the mandating of mission to restore normalcy.
Mission environments are mostly different from the regular work environments people are accustomed to. Much as it is desirable to have peace around us, the environments within which we work is an enabler or a dream killer. Mission environments are typically not very conducive, talk about general living conditions, weather, conflict, food, language, epidemic, exploitation among others. Some of these situations are hostile and people must learn survival skills if deployed in such areas.
The HEAT course therefore, is a training meant to provide military, police and civilians with the requisite knowledge and skills needed to work and survive in crises areas.
Course Aim
This course aims at equipping participants with knowledge of the various dangers in hostile environments and enhancing their skills/capacities on how to react appropriately when deployed in a hostile environment.
Training Objectives
The overall training objectives for the HEAT course are to:
Enhance participant's knowledge on hostile mission environments.
Increase participant's skills needed to operate in a hostile PSO environment.
Equip participants with requisite knowledge/skills for survival and appropriate actions in critical situations.
Target audience
This training is target at
Personnel (Mil/ Pol/ Civ.) deployed in crisis areas
Personnel preparing to deploy in crisis areas
MS Foreign Affairs/Embassy (nomination)
Methodology
The HEAT will be delivered with the Collaborative Problem Based Learning (CPBL), i.e. the KAIPTC training methodology through the use of:
Lectures
Participatory discussions
Power point/presentations
Simulation
Practical sessions / field exercise
Course Content
The HEAT training combines theoretical and practical sessions on the modules/topics below:
Introduction to contemporary PSO
Living in and working conditions in a mission environment
Stress Management
Behaviour in critical situation
Negotiations
Hostage taking
First aid
Personal health and hygiene
IED / Mine Awareness
IED/Mine awareness practical
Introduction to map reading
Voice Procedure and radio communication
Practical Exercise – simulation to manage threats like rioting, protests and demonstrations / kidnapping, hostage taking, and survival
Contacts/email for enquiries
For administrative issues
For course content issues
Mrs Marylyn Agblor
Training Coordination Officer
Tel.  00 233 (0) 302 718200 Ext. 1012
Fax. 00 233 (0) 302 718201
Email: marylyn.agblor@kaiptc.org
Mrs. Lydia Hagan
Course Director
Cell: +233 (0) 24 456 1852
Email: Lydia.hagan@kaiptc.org