ECOWAS/KAIPTC Election Observation Training Course (EOT 22)
Conflict Management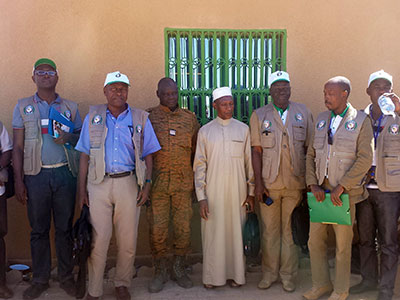 Course Fee:
Each participant shall be required to pay a course commitment fee of $1000 (one thousand) USD as well as take care of his or her travel expenses.
Feeding and accommodation will be provided at the Centre for the duration of the programme.
Terms and Conditions:
Participants are also required to have health insurance and show proof of medical and travel insurance cover for the duration of training period in Ghana
There is also a Covid-19 Policy in place at the Centre to guide training
| | |
| --- | --- |
| | In short |
| Course Date/Duration | 08 – 13 February 2022 |
| Course Capacity | 21 participants |
| Target Group | Civil Society Actors, Political Parties, Election Observation groups, Regional Economic Communities, Election Management Bodies, International and Non-governmental groups |
| Course Language | English with French translation |
| Application Deadline | 30 November 2021 |
Background
As the mainstay of the democratisation process, elections in many parts of the world have become fairly 'routine' with many countries preferring the conduct of periodic elections as the acceptable means of facilitating representation, participation and alternations of power.  The prospects of democracy in Africa seem quite promising as more countries resort to the ballot box as the means of soliciting and conferring power, rather than the use of the gun. Even countries that were plagued with violent conflicts for decades are now beginning to settle down as fledgling democracies with countries such as Liberia and Sierra Leone showing clear signs of consolidating their democracies. The relatively 'uneventful' elections in Mali after months of political and violent turmoil mark yet another significant 'milestone' in West Africa's effort at democratisation. The 'diffusion' of the post-elections tensions and anxiety that followed Nigeria's 2019 election through the courts rather than the 'streets'  to seek redress go to underscore the fact that democracy in Africa is steadily gaining traction.
These seeming success stories notwithstanding, concerns and questions continue to linger over the integrity of the conduct of democratic elections on the continent. The fact that opposition parties in many countries having cause to dispute results, questioning the credibility and fairness of the process suggests that work still remains to be done in 'perfecting' the democratic enterprise in much of Africa.
At the regional level, ECOWAS has played a leading role in moderating a sometimes uncertain political terrain of member countries by promoting democracy and multiparty elections. The ECOWAS Protocol on Democracy and Good Governance identifies the organisation of election observation during elections in member states as a key component of its conflict prevention mechanism.  As a result, the Commission through the agency of the Political Affairs Department plays a leading role in the organisation of election observation missions during member states' elections; all in an effort to help bolster and consolidate democracy in the region. The Centre has since 2004 collaborated with the Commission to provide training for election observers in West Africa. To date, the ECOWAS/KAIPTC Election Observation Training programme has trained nearly 500 observers many of whom have been deployed on observation missions by ECOWAS and other observation missions.
Course Goal/Objectives
The overarching goal of the programme is to enhance the knowledge and technical capacity of experts in election observation in West Africa in particular and elsewhere on the continent as a whole. The objective is to facilitate an increase in the contribution of experts to ECOWAS' efforts at preventing election-related conflict/violence and to help further democracy in the region.
Target Group
The course targets a broad range of electoral actors, including Civil Society Organizations, election management bodies, and RECs within Africa, but applications from outside the region are also welcomed and women are strongly encouraged to apply.
This is a bi-lingual course with simultaneous English/French translation.
Expected Outcome

This course is designed as a capacity building opportunity to help enhance the contribution of experts to peace operations within West Africa and elsewhere in the region. It will provide participants with the tools and skills necessary to help enhance the integrity and credibility of elections and reduce the potential for election-related violence.
Training Methodology

Facilitation is interactive, using the adult learning methodology of collaborative problem-based approach. It consists of mini lectures, small group activities, panel discussions, brainstorming, case studies, and simulations.
Facilitators and Resource Persons
The programme will bring together a team of facilitators and resource persons made up of election experts, practitioners, trainers and advocates from West Africa and beyond.
Course Content
The course covers a total of six (6) modules consisting of seventeen topics and a simulation exercise. They are as follows.
­ MODULE 1: DEMOCRACY AND ELECTIONS
This module provides the overall framework for elections and election observation and their contribution to the democratization process, particularly in promoting good governance.
Topics/Subjects:
 Understanding the role of election in good governance and democracy
Conceptual Framework for Elections and Election Observation
Understanding the Electoral Cycle
The Legal Framework of Elections
MODULE 2: ELECTION MANAGEMENT BODIES AND ELECTION ADMINISTRATION
This module highlights the distinct role and responsibilities of election management bodies in organizing elections and the various challenges that they face.
Topics/Subjects:
The role and challenges of election management bodies in facilitating credible and peaceful elections
MODULE 3: ELECTION OBSERVATION
This module provides an overview of the various approaches for organizing election observation missions, the roles and responsibilities of observers, and some practical skills/knowledge needed to observe elections.
Topics/Subjects:
Organization of Election Observation Mission
Code of Conduct for International Election Observation
Election Observation Mission: Types of Support, Developments and Challenges
Organizing an ECOWAS Election Observation – Best Practices & Lessons from the Field
Social and Intercultural Competence (Working with Local Actors)
Personal Security in the Field
Simulations Exercise
Introduction to Report Writing
MODULE 4: ELECTIONS AND CONFLICTS PREVENTION
This module explores the various conflicts that may arise during electoral process and how election observation can help mitigate electoral-related disputes.
Topics/Subjects:
Election observation as a mechanism for conflict prevention
Strategies/measures for preventing/mitigating elections induced conflict and violence
MODULE 5: THE ROLE OF NATIONAL AND INTERNATIONAL CIVIL SOCIETY GROUPS IN ELECTION OBSERVATION
The modules present the significance of election observation groups – both international and domestic- and the distinct role they play in promoting fair, transparent and peaceful elections.
Topics/Subjects:
Civil Society Groups and Election Observation: Their Role, Challenges and Contribution as Domestic Observers
The Role of International Observers as Facilitators/Enhancers of Peace, Security and Good Governance
MODULE 6: WOMEN, GENDER AND ELECTION OBSERVATION
The module discusses the various challenges, barriers, and opportunities for women's active political participation, particularly in the electoral process.
Topics/Subjects:
Conceptual Issues: Understanding the interface between gender roles and the possibilities/opportunities for men and women in the electoral process
Issues of Access and Participation: country-specific case studies
Selection Process

A selection team will pick prospective applicants who are Africans; non-Africans working in African missions; have a college degree or related work experience in elections. Women are strongly recommended to apply. Interested applicants are kindly requested to click on the "How to Apply" button in order to fill and submit the online application form. Interested applicants should submit their applications not later than Friday November 30, 2022.
Contact at KAIPTC
For administrative issues
For course content issues
Mrs Marylyn Agblor
Training Coordination Officer
Tel. 00 233 (0) 302 718200 Ext. 1012
Fax. 00 233 (0) 302 718201
Email: marylyn.agblor@kaiptc.org

Wg Cdr Christian Eshun


Course Director
Tel: 00 233 (0) 302 718200 Ext 2130
Mob: 00 233 (0) 243 667759
Email:

christian.eshun@kaiptc.org