Conflict Prevention Course (CPC 18)
Peace and Security Studies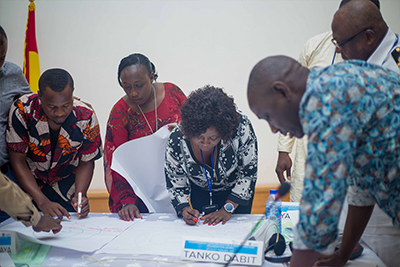 Course Fee:

$500.00 (Commitment Fee)
Terms and Conditions:
Cost of travel, accommodation and feeding for participants will be covered by KAIPTC. However, participants coming from outside the African continent will be responsible for their travel expenses as well.
To attend the course, selected applicants will be required to pay a non-refundable course fee of $500.00 at least 3 weeks before the course assembles.
Course capacity - 30 participants.
KAIPTC residential accommodation for all participants.
Facilitation team will be composed of resource persons from KAIPTC, NGOs, Conflict Prevention Practitioners and Mediators as well as academics among others.
The course will be delivered in English only
Course Aim
The overall aim of the course is to provide knowledge and expertise on conflict prevention through an understanding and explanation of the factors that cause and trigger conflicts. Hence the course will contribute to the implementation of the ECPF and the African Peace and Security Architecture (APSA)
Read full details about the Course
Target Group
The course will target a mixed group of 30 practitioners in the field and those who are looking forward to be inserted in an operational theatre. In view of the two-sided approach to the course, priority will be given to personnel working with communities on the frontlines, Non-Governmental Organizations and multilateral organizations in ECOWAS member states with special emphasis on Niger, Sierra Leone, Liberia, Togo, Benin, Burkina Faso, The Gambia, Cote D'Ivoire, Guinea, Ghana and Nigeria. The selection process will also strive to include personnel from the ECOWAS (ESF) and AU Commissions, and United Nations with the European Union as observers. Selection will strive to achieve gender balance of participants as much as possible.
Course Content
New Wars, Conflict and Multidimensional Peacekeeping – A methodological approach
The Nature of the African State
Women and Conflict Prevention
Risk and Vulnerability Assessment
Natural Resource Governance and Conflict Prevention
Media, Communication and Conflict Prevention
Security Sector Systems and Conflict Prevention
Citizens, Governance and Conflict Prevention
Elections, Democracy and Conflict Prevention
Rule of Law and Transitional Justice
Human Rights, Theory and Practice
Selection Process
The selection process will involve submission of bio-data through the KAIPTC application portal after which applicants will be shortlisted. Depending on the number of applicants, there could be a second phase of the selection process which will involve the submission of a 600-word commentary paper on a topical peace and security issue to be determined by the Course Director. The results from the submission of this paper will count in the final selection of participants.
How to Apply
Interested applicants are requested to kindly fill and submit an online application form. Access the application form using the link here.
Contacts at KAIPTC
Ms Marylyn Akabutu
Course Coordinator
Tel.  00 233 (0) 302 718200 Ext. 1012
Fax. 00 233 (0) 302 718201
Email:   marylyn.akabutu@kaiptc.org
Col Emeka Ogili
Course Director
Tel. 00 233 (0) 302 718200 Ext. 1316
Mail. nnaemeka.ogili@kaiptc.org