CERTIFICATE IN CYBER SECURITY 2023
Peace and Security Studies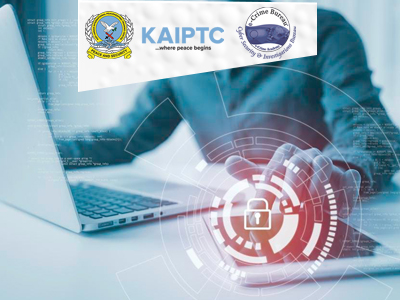 Course Fee:

Each participant shall be required to pay a non-refundable commitment fee of ¢2,750 GHS (two thousand, seven hundred fifty Ghana cedis). Participants who will require visa on arrival will also be responsible for the cost of their visas. KAIPTC shall be responsible for participant's external (within Africa) travel, accommodation and feeding during the duration of the course.
Terms and Conditions:
· The course will be conducted ONLY in English; · Every participant will have to prove adequate health insurance coverage, which should include Covid 19 before travelling to the Centre. Additionally, participants must possess a COVID-19 negative PCR test from an accredited laboratory in the country of origin. The test should have been done not more than 72 hours before the scheduled departure time from the country of origin. KAIPTC will not bear any health or accident costs for any participant.
In short
Course Date/Duration
27 March– 31 March 2023
Course Capacity
25 participants
Target Group
The target groups include the following:

African Union, ECOWAS, UN Missions in Africa and other Regional Economic Communities (RECs).

 

a.   Law Enforcement, IT Security

b.   Managers/Officers, Risk & Compliance

c.    Officers, Systems Administrators,

d.   Graduates/Students of Tertiary Universities,

e.   Employees interested in building knowledge in cyber security

Course Language
English
Application Deadline
24 March 2023
Introduction/Background
In today's rapidly evolving technological landscape, cybersecurity has become essential to any organization's information security strategy. With cyber-attacks becoming more sophisticated and frequent, the demand for cybersecurity professionals has skyrocketed. In addition, growing compliance requirements locally require organisations and individuals to be vigilant about cybersecurity.
The "Certificate in Cybersecurity" is a hands-on program designed to provide participants with a foundational understanding of the principles and practices of cybersecurity. The program covers the essential concepts and skills needed to protect information systems from cyber-attacks and breaches.
Course Objectives
The main objectives of the course are to:
· To provide participants with the knowledge to establish the nexus between cyber criminality and other transnational crimes
· To equip participants to identify the various forms of cyber-attacks and attack methodologies used by cybercriminals
· To provide practical methods to foster a proactive cyber security management culture of institutions
· To ensure that organisations have the relevant professional skills to develop comprehensive cyber security programmes for institutions to deal with the short, medium and long term cyber risks
· To provide the requisite tools to evaluate and manage the security of IT systems
· To understand cyber security risk management and governance structures and the role of employees and departments in reducing cyber risks.
Target Group
· Law Enforcement
· Entry-Level IT Security Officers
· Risk & Compliance Officers
· Systems Administrators
· Graduates/Students of Tertiary Universities, and
· Employees interested in building knowledge in cyber security.
Modules of the course
Overview of Cybercrime & Introduction to Cyber Security
Cryptography in Information Systems
Cyber Attacks & Defence Strategies (Network, System & Human Vulnerabilities)
Cyber Threat Intelligence
Artificial Intelligence in Cybersecurity
Cyber Forensics & Incident Response
Cyber Governance, Risk & Compliance (ISO 27001, NIST, Cybersecurity Act-Act 1038)
Cyber Security Lab Sessions
How to Apply
Interested applicants are kindly requested to click on the link below.
https://forms.microsoft.com/r/GH6BvJt78u
Contact
Col Daniel Amenyo Agbekor
Course Director
Tel. 00 233 (0) 302 718200 Ext. 1035
Fax. 00 233 (0) 302 718201
Email: daniel.amenyo-agbekor@kaiptc.org
Mary Anna Abakah
Lead, Training
e-Crime Bureau
Tel. 00 233 (0) 0302 999 981
Mobile. 00 233 (0) 50 1304 836 / 50 788 8899  Email: training@e-crimebureau.com
Mrs Marylyn Agblor
Training Coordination Officer
Tel. 00 233 (0) 302 718200 Ext. 1012
Fax. 00 233 (0) 302 718201 Email: marylyn.agblor@kaiptc.org
Email: training.coordination@kaiptc.org