Conflict Analysis and Mediation (CAM 20)
Peace and Security Studies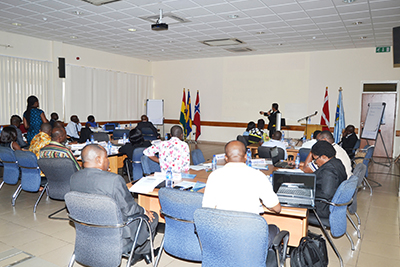 Course Fee:
Each participant shall be required to pay a non refundable commitment fee of $500 USD (five hundred US Dollars).
Participants who will require visa on arrival will also be responsible for their visa fees.
KAIPTC shall be responsible for participants travel (within Africa) accommodation and feeding during the duration of the course.
Terms and Conditions:
Cost of travel, accommodation and feeding for participants will be covered by the KAIPTC.
The course is conducted in English; there will be no translation in other languages.
The course is residential and course participants will be accommodated at KAIPTC.
All participants will have to show proof of adequate health insurance coverage prior to the commencement of the course.
KAIPTC will not bear any costs caused by illness or accident.
No shows or cancellation of confirmed participants: resulting costs are to be borne by the participant.
| | |
| --- | --- |
| | In short |
| Course Date/Duration | 17 – 28 February 2020 |
| Course Capacity | 30 participants |
| Target Group | Individuals and organizations whose members/staff find themselves undertaking/supporting mediation efforts (see details below) |
| Course Language | English |
| Application Deadline | 10 January 2020 |
Course Aim 
The Conflict Analysis and Mediation Course has been designed with the aim of strengthening the critical, analytical and practical conflict analysis, mediation and negotiation skills, including the development of multi-level, locally relevant and tailor made approaches to conflict resolution. In order for it to be relevant to professional conflict resolution participants, the course aims at enabling the sharing of experiences and lessons learned in multi-track mediation and peace processes.
Read full details about the Course
Target Group
The course is open to individuals and organizations whose members/staff find themselves undertaking/supporting mediation efforts. Among the organizations targeted for participation in the course are: UN Missions in Africa, African Union, ECOWAS and other Regional Economic Communities (RECs) such as Economic Community of Central African States (ECCAS) and the Intergovernmental Authority on Development (IGAD). Practitioners in mediation related jobs are also encouraged to apply. Female participants are particularly encouraged to apply.
How to Apply
Interested applicants are requested to kindly fill and submit an online application form.
Contact at KAIPTC
For administrative issues
Mrs Marylyn Agblor
Training Coordination Officer
Tel.  00 233 (0) 302 718200 Ext. 1012
Fax. 00 233 (0) 302 718201
Email: marylyn.agblor@kaiptc.org