Africa Union Peace Support Operations Staff Pilot Course (AUPSOSC21)
Peace Support Operations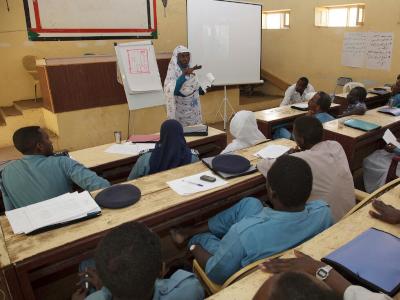 Course Fee:
The course will be sponsored by the German Government however, participants who will require visa on arrival will be responsible for the cost of their visas. KAIPTC shall be responsible for participant's external (within Africa) travel, accommodation and feeding during the duration of the course.
KAIPTC will not bear any health or accident costs for any participant.
Terms and Conditions:
Every participant will have to prove adequate health insurance coverage, which should include COVID-19 before travelling to the Centre. Additionally, participants must possess a COVID-19 negative PCR test from an accredited laboratory in the country of origin. The test should have been done not more than 72 hours before the scheduled departure time from the country of origin.
The course will be residential. Participants will be fed at the KAIPTC Mess for the duration of the course.
Dress and Equipment: Uniformed Service personnel are to wear their normal Working Dress for lectures. Civilian participants are to use equivalent dress on a normal working day.
Participants would be provided with pens and notebooks.
| | |
| --- | --- |
| | In short |
| Course Date/Duration | 07 June – 18 June 2021 |
| Course Capacity | 25 participants |
| Target Group | See details below |
| Course Language | The course will be conducted in English with interpretation in French. |
| Application Deadline | 24 May 2021 |
Introduction
The AU PSO Staff Course is a new one based on the request of the AU, to develop a tailor-made course, designed in collaboration with the AU to respond among other things to the specific needs of planning, decision making, analysis skills, research skills, report writing, presentation skills, asset management, technical writing skills and professional writing techniques).It is scheduled to be run from Monday 14th to Friday 25 June, 2021 at the Kofi Annan International Peacekeeping Training Centre (KAIPTC). The course will be sponsored by the German Government.
Course Aim

To enhance the knowledge, skills, and attitudes of participants to effectively perform their operational, administrative and logistical functions in AU PSOs.
Objectives
The objectives of the course are to:
Familiarize participants with the nature of conflicts in Africa
Acquaint participants with the AU System
Equip participants with knowledge about AU PSOs
Improve participants' understanding of the structure of AU PSOs
Explain the concept of Integrated Mission Support in AU PSOs
Apprise participants on the AU Compliance and Accountability Framework
Highlight the importance of health, safety and security in AU PSOs
Improve the briefing and writing skills of participants
Expose participants to crosscutting issues in AU PSOs
Practice participants' knowledge, skills and attitudes of AU PSOs in order to reinforce learning.
Conduct of Course
The course will be divided into syndicates for the purpose of discussions and exercises.
Methods of Instructions
The course will be delivered through plenary sessions (with the presenter extracting ideas from participants), lectures and scenario-based exercises.
Syllabus:
The course covers 10 broad areas namely:
Nature of conflicts in Africa.
The AU system
AU Peace Support Operations (PSO)
Structure of AU PSOs
Integrated Mission Support in Au PSOs
Au Compliance and Accountability Framework
Health, Safety and Security in Au PSOs
Au Briefing and Writing Skills
Crosscutting Issues
Programme:
The course is scheduled to last for 10 working days, from 14 – 25 June, 2021. Daily routine will be from 0830 to 1600 hours. Students may stay longer or re-convene at their own time to work on group or sub-syndicate assignments.
Exercises:

Exercises will be conducted during the course to practice participants' knowledge, skills and attitudes of AU PSOs in order to reinforce learning. In these exercises, participants will be expected to address a specified issue in coordination with colleagues. Participants will need to work effectively as a group, accommodating different views and perspectives and listening to each other's ideas. Syndicate members must try to agree on a few key findings that the person/persons speaking on behalf of the group can articulate in a clear and concise way. They must also report on any areas where the group finds it difficult or impossible to reach consensus.
How to Apply
Please click on the "How to Apply" button. Interested applicants are requested to kindly fill and submit an online application form.
Contact
For administrative issues
For course content issues

only



Mrs Marylyn Agblor
Training Coordinatior
Tel. 00 233 (0) 302 718200 Ext. 1012
Fax. 00 233 (0) 302 718201
Email: marylyn.agblor@kaiptc.org
Col John Lawluvi
Course Director
Tel: +233 (0) 302 718 200 Ext. 1075
Email: john.lawluvi@kaiptc.org
United Nations Picture ID-UN7428707