Celebrating our Ghanaian Women Peacekeepers on the occasion of International Day of UN Peacekeepers 2020
"It been a privilege to be working as a deputy chief of the communication branch at the Sector East Headquarters in MINUSMA. My role involves liaison and coordination of all ICT matters within the Sector HQ, with the force HQ and with thw Field technical section in the mission on matters regarding ICT in the sector. It is very wonderful to see how the mission is encouraging the involvement of women in peace keeping by retaining some appointments for female staff. This has proven the importance of women in peacekeeping. It has been an exciting year working with colleagues from diverse backgrounds. I am especially grateful for the support and cooperation from my male counterparts here".
Major Nancy Aboagye-Bonsu, UN Multidimensional Integrated Stabilization Mission in Mali (MINUSMA)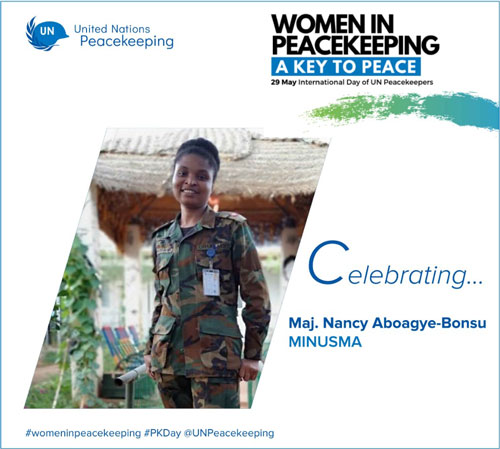 "I serve as the Chief Clerk with the Engagement Branch. In this position, I am in charge of the administrative operations of the Branch. I also serve as the point of contact for all Liaison Officers as it relates to administrative and secretarial duties. This position and my interaction with the local population and other nationalities in the mission has enabled me to be more receptive to persons of diverse cultures. COVID-19 will change the way the female peacekeeper engages with the communities they are assigned to. However, they are also best placed to educate the communities to keep themselves health and safe in these times".
Sgt. Rebecca Owusu-Yirenkyi, United Nations Peacekeeping Force in Cyprus (UNFICYP)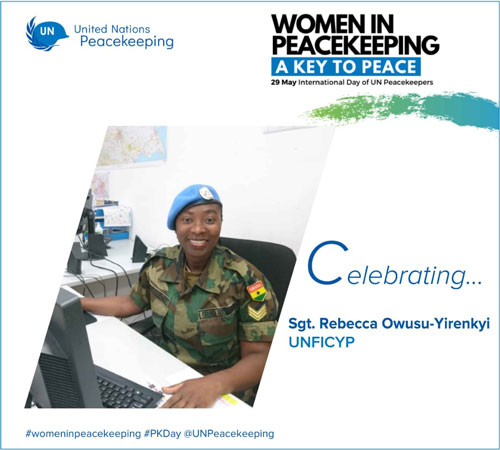 "My role as an Ops Assistant at the Tactical Operations Centre (TOC) requires not only receiving and dissemination of information but going to the hot points within our area of operation to gather first-hand information. This puts me on the forefront of operation which is critical in achieving the mandate of UNIFIL.  Also, I encourage the women and young girls in the communities to dream big and achieve more.  For my younger colleagues, they also follow my example and that of other female pacesetters who have served at the frontline in UNIFIL and peacekeeping missions.  This supports the call by the UN Security   Council Resolution 1325 and the four other Resolutions, to engage more women in Peacekeeping and also expand their roles".
WOI Logah Patience Ablah, OPS assistance and Patrol Leader of the Ghanaian Battalion serving for Peace with the United Nations Interim Force in Lebanon (UNIFIL)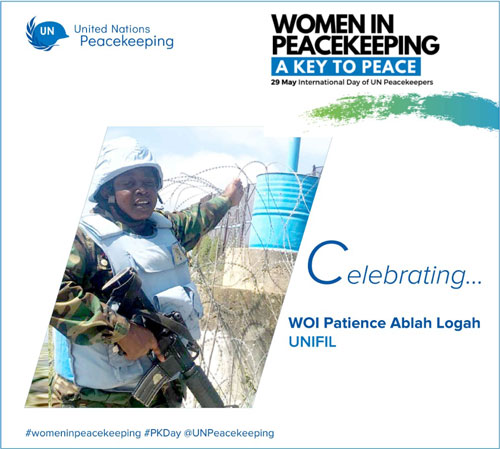 "As a female peacekeeper, I promote gender equality and act as role model by inspiring women in the Protection of Civilian site and girls to pursue careers in law enforcement. My presence in the Protection of Civilian site serves as a motivation to women and girls, especially when they see me supervising/Training FPUs which is mostly male dominated. I serve as active agent in peace and security through educating and crusading against sexual exploitation and abuse. I pledge to continue working hard to put smiles on the faces of people in conflict."
Vera Ayensu Kwarteng, FPU Coordination Cell