In April 2023, a Specialization Course on Gender Responsive Climate Action in Humanitarian Assistance was designed and piloted in partnership with the Austrian Government to contribute towards addressing the existing gap in shaping a gender-responsive, rights-based approach to climate action.
Climate change is widely recognized as one of the greatest threats to peace and security in the 21st century which exacerbates existing gender inequalities. The effects of climate change has a disproportionate impact on women and girls, who are already disadvantaged in many ways through their limited access to safety nets, technology and information, and their vulnerability to the consequences of environmental crises.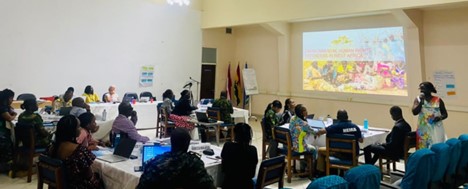 Participants of the course were primarily alumni of the KAIPTC Humanitarian Assistance in West Africa (HAWA) core course who, during the week-long session, reflected on the nexus between climate change, conflict and gender.  In addition, the course capacitated participants to address the gender gaps in development and humanitarian initiatives and equipped them with the tools to examine, adjust, and mainstream gender responsiveness in humanitarian project cycles during climate emergencies.
During the five-day capacity strengthening workshop held from 24th – 28th March, participants shared their views about the usefulness of the course.
"The training is excellent; I learnt new things and have improved my previous experience.  Firstly, the facilitators are very resourceful and knowledgeable. Secondly, the participants selected were from diverse backgrounds with rich experiences that enabled me learn and understand more about the training. They provided relevant contributions and critiques as well, during group activities.  
Before attending the course, I had little knowledge in climate action but now because of the knowledge acquired, I am going to take personal responsibility in climate action to combat the threat of climate change to reduce the impact. I start with some action to help tackle the climate crisis. I am going to start conversations about climate crisis in my home, community and organization. I will endeavor to make conscious efforts to integrate climate action in my organizations activities. I hope to train and educate others to be advocates of the climate change crisis to increase the voices in the fight against climate change."  Nadiya Gebremichal Nokoe, SHEE-Humanitarian Foundation for Protection of Women and Children (GR-CAHA23)