Multidimensional Peace Operations Course (MDPO18)
Peace Support Operations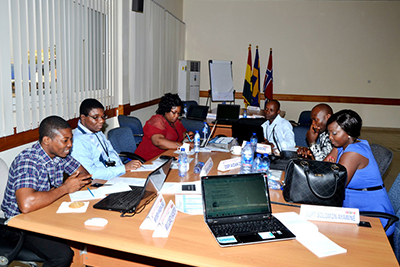 Course Fee:

This course is fully funded.
Terms and Conditions:
• The course is conducted in English; there will be no translation in other languages. • The course is residential and course participants will be accommodated at KAIPTC. • The following costs will be covered by the Government of Switzerland: facilitation fees, air travel from international airport, food and accommodation. Visa costs as well as travel to an international airport will be borne by the participant. • UN personnel (Military, Police and Civilian) are to use UN flights to reduce cost impact on budget. • All nominated participants will have to complete an eLearning module prior to the commencement of the course. The acquired certification is a condition for admission. The aim of this preparation is to place all participants on the same level of understanding of the MDPO concept prior to the course commencement. • All nominated participants will have to show proof of adequate health insurance coverage prior to the commencement of the course. KAIPTC or the Swiss Confederation will not bear any costs caused by illness or accident. • No-shows or cancellation of confirmed participants: resulting costs are to be borne by the participant.
Course Summary:
United Nations peacekeeping operations have become multidimensional in nature, composed of a range of components, including military, civilian police, political affairs, rule of law, human rights, humanitarian, reconstruction, public information and gender. There are also a number of areas, such as mission support and security and safety of personnel, which remain essential to peacekeeping regardless of a particular mission's mandate. It is critical therefore that all actors involved understand the related challenges and opportunities, including mission components, mandates and structure from an operational perspective.
Course Aim:
The aim of the Multidimensional Peace Operations Course (MDPO) is to provide military, police and civilian personnel with the knowledge and skills of operational level planning, coordination and conduct of MDPO in order to enhance the efficiency and effectiveness of the components in Peace Operations.
Read full details about the Course
 Modules:
The Nature of Conflicts
Frameworks for Peace Operations
Introduction and Concept of Peace Operations
Gender and Peace Operations
DDR in Peace Operations
Security Sector Reform (SSR) and Peace Operations
In-Mission Negotiations, Mediation & Facilitation
Responsibility to Protect (R2P) and Protection of Civilians (POC) in Peace Operations
Integrated Mission Support
Planning in Peace Operations
UN Policy on Civil-Military Coordination (CIMIC)
Mine Awareness and IEDs in Integrated Missions Support
Respect for Diversity
MDPO in Practice
 Target Participants:
The target group includes Military-, Police-, Civilian Mission Staff, Humanitarian- and Civil Society Actors on operational level (CPT to LTC, ASP to C/SUPT and managerial level/positions e.g. P3/P4, Assistant Director, Directors).
UN/AU/RECs Staff
Mission personnel
Military personnel
We strive for an equal participation of Military, Police and Civilians as well as gender balance.