Maritime Security and Transnational Organised Crime Course (MSTOC 19-2)
Peace Support Operations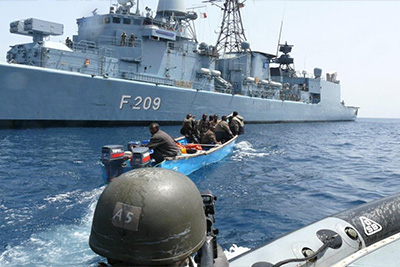 Course Fee:

Cost of travel, accommodation and feeding for participants will be covered by the KAIPTC (sponsored by German Ministry of Defence and Ministry of Foreign Affairs)
Terms and Conditions:
No special conditions.
| | |
| --- | --- |
| | In short |
| Course Date/Duration | 02 – 13 September 2019 |
| Course Capacity | 30 participants |
| Target Group | Mixed group of middle level security sector practitioners |
| Course Language | English & French |
| Application Deadline | 15 July 2019 |
Course Aim
The overall aim of the course is to train security sector actors in the maritime domain and explore its potential links to transnational organized crimes. The security sector actors will be updated on the newest trends of rule of law regarding maritime security and transnational organized crime in Africa as a whole, and West Africa to be specific. The course also aims to establish and foster regionalcooperation and coordination between individuals and institutions engaged in maritime security and transnational crimes.
Read full details about the course.
Target Group
Set at the operational level, the course targets a mixed group of middle level security sector practitioners from the following:
ECOWAS Maritime Security Structure officials
Government officials, operational level staffers of legislative bodies/policymakers;
Security sector practitioners (Key representatives from civil society, Police, Border Police, Maritime Police, Navy, Militaries, Gas and Oil Platform (GOPLAT) Industrialists, intelligence actors, oil traders, and maritime/shipping/storage security officers) directly involved in operational planning and implementation of policies.
Individuals and researchers in the area of maritime border security ;
And non-state maritime security actors.
The selection process will strive to achieve gender balance of participants as much as possible.
Course Content
The course is planned to cover the following modules:
Introduction to West Africa and it's security challenges
Legal Frameworks on Maritime Security
Piracy/Armed Robbery / Maritime Terrorism
Illegal, Unreported and Unregulated Fishing (IUU)
Introduction to Transnational Organized Crimes, Money Laundering and Drug Trafficking
Human Trafficking / Illegal Migration by Sea
Small Arms Trafficking / Proliferation
SALW Proliferation
Criminal Investigation / -Intelligence
Maritime Environmental Crimes
Threat Assessment & Regional Maritime Security Arrangement
Security Sector Reform
Reintegration and Reorientation
Illegal Migration by Sea
Human Security Management
Scenario based exercises
To complement the classroom work, there will also be an educational tour to the following places:
The Vessel Traffic Monitoring and Information System (VTMIS) of the Ghana Maritime Authority, Accra;
The Tema Harbour;
Multinational Maritime Coordination Centre (MMCC) at the Christianborg Castle Osu, Accra;
Eastern Naval Command for a Sea Trip.
METHODOLOGY
The problem-based learning approach will be used in the delivery of the ten-day residential course. Participants will play active roles in the learning process under the supervised guidance of a team of experienced facilitators. The course content will thus be delivered using a combination of tools such as; lectures, case studies, small group work exercises and simulation among others. The course will be conducted in both English and French.
HOW TO APPLY
Interested applicants are requested to kindly fill and submit an online application form by clicking on "How to apply".
Contact at KAIPTC