Military Medical Support in Humanitarian Arena Course (MMSHA) 19
Peace Support Operations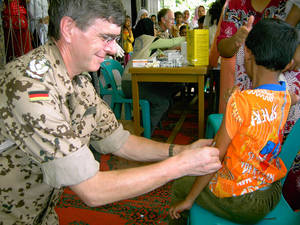 Course Fee:

None
Terms and Conditions:
Cost of travel, accommodation and feeding for participants will be covered by the KAIPTC. (Sponsored by German Ministry of Defence and Ministry of Foreign Affairs)
COURSE AIM
The overall aim of the course is to familiarize the participants with the principle of medical support at the civil-military interface, offers a platform for discussions and allows for a practical application of skills and knowledge during a top table exercise. It provides an excellent opportunity to gain an enhanced understanding of the interface between the military and civilian sphere and serves as a forum for mutual exchange. Networking is an important tool for a quick and successfully support.
Read full details about the course
TARGET GROUP
Participation in the Course will be by invitation to targeted individuals and/or Ministries of Defence in the West Africa Region (member States of ECOWAS); additionally, the course will be advertised via KAIPTC Webpage / LMS.
Chief Medical and Force Medical Officers from AU/ECOWAS and EU Missions;
Selected ECOWAS personnel;
Selected and nominated Mission personnel;
International military personnel preparing to serve at UN/NATO/EU-Mission HQs as Medical-, CIMIC-, Legal- Advisors /Staff officers;
International civil military personnel preparing to serve at UN-Mission HQs at Joint Mission Analysis;
International civil military personnel preparing to serve for IO's, GO's and NGO's in complex emergency environments;
Participants will come from civilian, police and military backgrounds;
The gender aspect will be taken into consideration; (depends on applications and nominations)
Participants must be able to speak and write fluently in English;
The participants will be selected with attention to a balanced geographical, ethnical, gender and professional distribution.
COURSE CONTENT
The course is planned to cover the following modules:
Principles of Humanitarian Assistance Humanitarian Crises and Sphere standards
Civ. Mil Humanitarian Assistance in Complex Emergencies
Medical UN Principles and Guidelines
Peacekeeping & Stabilization Missions, Principles, Structures and Functions
International Health Regulations and Conflict, UN Cluster System
Humanitarian Assistance & SSR incl. Health Security
Disaster Management Cycle & Medical Support in Operations
Health Programs in Conflict Tactic & Operation
Health Intelligence & Medical Mission Analysis
Coordination with other Stakeholders (AU/EU/NATO)
Mental Health in Emergencies
Top Table Exercise
METHODOLOGY
Participatory, problem-based learning approaches using facilitated discussions
Theoretical sessions with practical application
Practice sessions to allow for application of information and concepts presented
Drawing on participants' individual experience and subject matter expertise
Top table exercise
HOW TO APPLY
Interested applicants are requested to kindly fill and submit an online application form.
Access the application form using the link: Access to LMS
Cost of travel, accommodation and feeding for participants will be covered by the KAIPTC. (Sponsored by German Ministry of Defence and Ministry of Foreign Affairs)
Contact at KAIPTC:
Mrs Marylyn Agblor
Training Coordination Officer
Tel. 00 233 (0) 302 718200 Ext. 1012
Fax. 00 233 (0) 302 718201
Email: marylyn.agblor@kaiptc.org
Email: training@kaiptc.org
LtCol Michael Reinwald
Course Director
Tel.: +233 (0) 55 8586824 or (0) 555 61 7001
Email: Michael.Reinwald@kaiptc.org or reinwaldm@gmx.de
CLOSING DATE FOR APPLICATIONS: 31 May 2019
Course Date/Duration: 08 to 12 July 2019
Course Capacity: 20 participants