Call for Applications: Protection of Civilians Course (PoC) 2019
Peace and Security Studies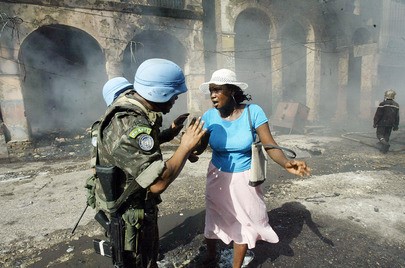 Course Fee:

See description
Terms and Conditions:
Visa costs and travel cost to your next international airport will be borne by the participant. KAIPTC won't refund any cost borne by the participants.
Estimated budgeted costs will be covered by the Government of Switzerland and includes: Air travel cost from an international airport to Accra/Ghana, Airport shuttle to and from KAIPTC, accommodation and food as well as facilitation fees.
Call for Applications: Protection of Civilians Course (PoC) 2019
Click here to read the full detail about the course.
Course date
21.10.19 – 01.11.19
Course Aim
The aim of this course is to enhance the capacity of participants for the effective implementation of PoC mandates in Peace Operations on the operational level in order to mitigate the effects of conflicts on civilians.
Selection will strive to achieve gender balance of participants.
Target Group
The training course targets Mid-level (operational) personnel:
UN/AU/RECs Staff
Mission personnel
Military & Police personnel
Humanitarian Actors
Government officials
Non-Governmental Organizations
Civil Society Organizations
Course Content
The course syllabus covers the following modules:
Background and History of PoC
Overview of contemporary UN, AU/REC Peace Operations
UN/AU/REC's Approach to PoC
Normative Framework of PoC
SSR, R2P and PoC
Gender and PoC
PoC in Practice
Teaching Methods
The course will be delivered through a combination of lectures, case studies, small group works and exercises among others.
The "Problem-Based Learning Approach" will be used in the delivery of the course; hence, participants will play a very active role under the guidance of an experienced team of facilitators.
Selection
We will receive roughly 15 applications for each and every seat available on this course. The process will be as following:
Selection Board will decide on shortlisted and waitlisted applications
Shortlisted candidates will be asked to confirm their seats bindingly
Should not all shortlisted candidates confirm their seats, these will be offered to candidates on the waitlist on "first come first served" basis
Contact
Training Coordination Officer
Mrs Marylyn Agblor
Tel. +233 (0) 302 718200 Ext. 1012
Fax. +233 (0) 302 718201
Email: marylyn.agblor@kaiptc.org or training@kaiptc.org
Course Director
Maj Adrian Zurmuehle (Swiss Armed Forces)
Course Director
Tel.: +233 (0) 302 718200 Ext. 1315
Mob: +233 (0) 558 490 632
Email: adrian.zurmuehle@kaiptc.org