Profile of Colonel Robert Yaw Affram , Director of Training, KAIPTC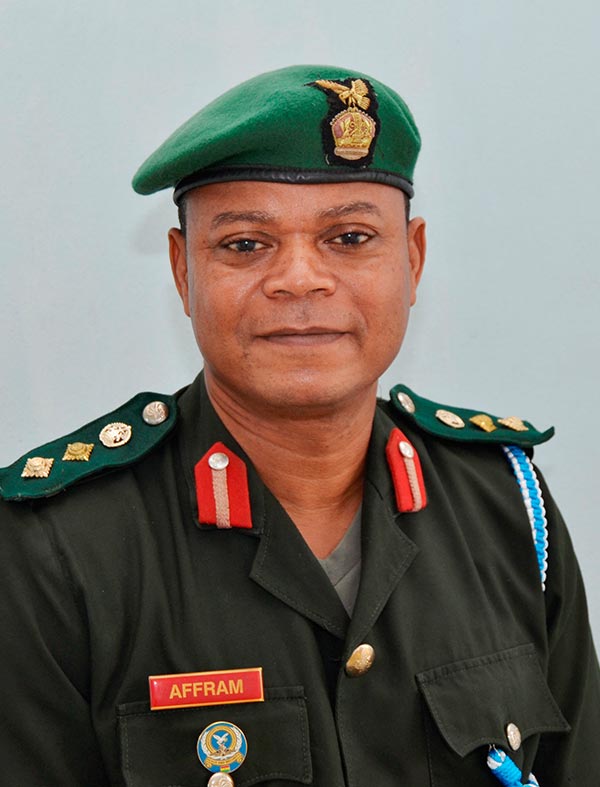 Colonel Robert Yaw Affram is the Director of Training at the KAIPTC and oversees the training department. He is an alumnus of the Joint Services Command and Staff College, UK and the National Defence College, Nigeria. He holds an MA degree in Defence Studies from Kings College London (KCL) and an M Phil in Development Studies from the University of Development Studies (UDS), Ghana.
Colonel Affram has vast experiences in Peace Support Operations having served with ECOMOG in Liberia (1993) and UN in Lebanon (1989), Western Sahara (1995), Sierra Leone (2002), Congo (2004), Cote d'Ivoire (2009) and Sudan (2012) in various appointments ranging from Platoon Commander, Company Commander, Battalion Commander, Military Observer and Chief Military Personnel Officer. He has a rich background in military operations and training holding notable appointments like Battalion Second-in-Command, Command Operations officer, Second-in-Commander - Ghana Military Academy and Director, Army Operations in the Ghana Armed Forces.
Colonel Affram has attended a number of Peacekeeping and Peace Support Operations Courses to include UN Logistics Officers Course at Kofi Anan International Peacekeeping Training Centre (KAIPTC), Accra, Ghana, West African Disaster Preparedness Course, KAIPTC, UN Military Observer Course, Kingston, Canada and UN Strategic Level Crisis Management and Conflict Resolution Course, Cairo, Egypt.
His research areas of interest include Gender, Peace, Conflict and Security Studies.