Profile of Brigadier General Irvine Nii-Ayitey Aryeetey , Deputy Commandant, KAIPTC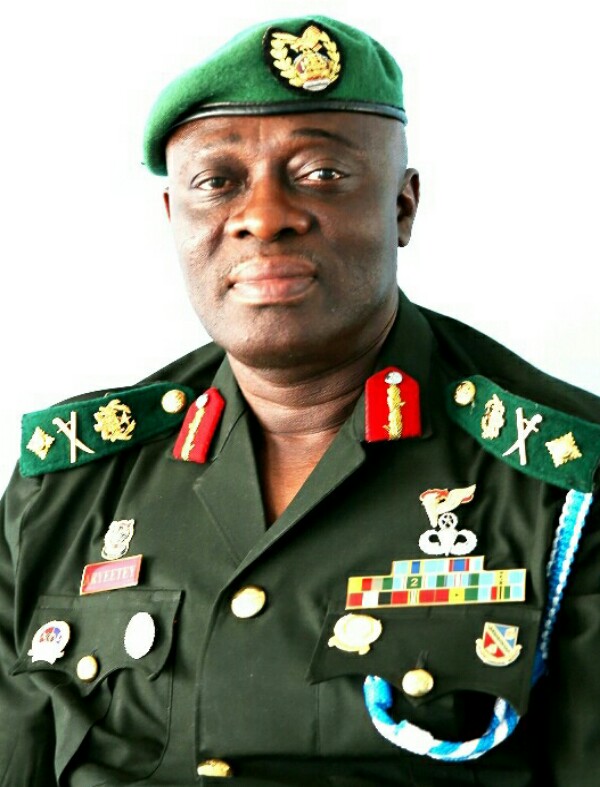 Brigadier General Irvine Nii-Ayitey Aryeetey was commissioned as a Second Lieutenant in 1986, and posted to the Airborne Force in Tamale. He proceeded to the US Army Infantry School in Fort Benning, Georgia in 1991, where he was trained and certified as a Jumpmaster/Pathfinder/Instructor. He has completed all mandatory career courses. Gen Aryeetey had the privilege to attend the Nigeria Command and Staff College for his Junior Staff Course in 1995 and the Infantry Officer's Advance Course, again in Fort Benning, Georgia, USA in 1997. He completed the Senior Command and Staff Course at the Ghana Armed Forces Command and Staff College (GAFCSC) in 1999 and also graduated from the US Army War College in Pennsylvania in 2015.
Brigadier General INA Aryeetey was posted to the Jungle Warfare School in 1991 as an instructor and to the Army Combat Training School as a Directing Staff in 1998. He was subsequently appointed Commanding Officer of the Airborne Force in 2002 and relinquished command in 2008. He was then appointed a Directing Staff at the Senior Division of GAFCSC between 2008 and 2012, two years of which he served at the Command and Staff College Nigeria, as part of an exchange program between the two institutions. He returned to GAFCSC in 2012 and was appointed Chief Instructor at the Junior Division. In 2013, he was moved to the Senior Division of GAFCSC as Chief Instructor, Army Faculty, with additional responsibility for Joint Studies and subsequently appointed Director of Studies in 2015. He was promoted Brigadier General in 2016 and appointed Assistant Commandant at GAFCSC until January 2017 when he deployed to the Democratic Republic of Congo (DRC) as Commander of the Western Brigade of the United Nation's Stabilization Mission in Congo (MONUSCO).
General Aryeetey holds a Bachelor's degree in Integrated Development Studies and Master's Degrees in International Affairs and Diplomacy, Development Management and Strategic Studies. He also holds a Special Certificate in Public Administration, Certificates in Conflict and Crisis Management, Defense Management, Peace Operations, Security Sector Governance and Management and Managing Defense in a Wider Security Context. He also attended the Command Course at the Pearson Centre for Peacekeeping in Canada.
General Aryeetey served twice as a Commanding Officer of Ghanaian Battalions in DRC (MONUC - 2004) and Liberia (UNMIL - 2006) and also as a Military Observer in Ethiopia and Eritrea (UNMEE - 2000). He also served twice in Lebanon (UNIFIL - 1990 and 1996) and once in Cambodia (UNTAC - 1993). He has just completed a 13 months' tour as a Brigade Commander with MONUSCO (DRC).