Responsibilty to Protect Course
Peace and Security Studies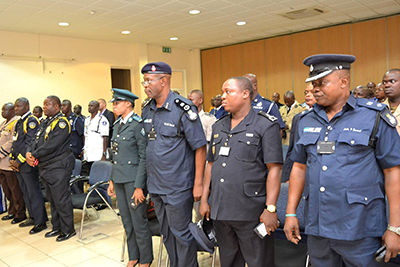 Course Fee:

$500.00 (Non- refundable commitment fee)
Terms and Conditions:
Participants who will require visa on arrival will also be responsible for their visa fees. KAIPTC shall be responsible for participant's travel (within Africa, accommodation and feeding during the duration of the course.
Course Summary:
This course aims at training African Policymakers, Government officials, Military, Police and Civil Society personnel about R2P and its implementation.
Read full details about the course
Modules:
The Foundations and evolution of R2P
Normative and legal Foundations; R2P and Africa: national, transnational, regional and continental arrangements and practice
R2P, Prevention and Early Warning- Risks and vulnerabilities
Post-conflict rebuilding and reconciliation
Peace vs. Justice (ICC and special courts)
The role of the media; R2P, Protection of Civilians and Military/Security Sector
R2P – Issues, Controversies and Challenges (case study)
Crosscutting Issues: Accountability, Gender and R2P
R2P Simulation
Target Participants:
Policy makers of governments in Africa in Security;
Military, Police and Civilian peacekeepers;
Non-Governmental Organisations;
Representatives from the Regional (AU) or Sub-Regional Economic Communities (RECs);
Representatives from the National Peace Councils;
Civil Society Organisations;
Officials of the Ministries of Interior, Foreign Affairs and Justice.