Protection of Civilians in Armed Conflict Course (POC18-1)
Peace and Security Studies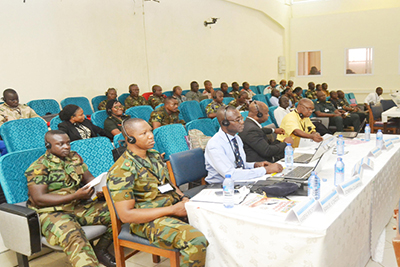 Course Fee:

Fully funded by United States Africa Command (USAFRICOM)
Course Summary:
Protection of Civilians in armed conflicts has increasingly become an integral component of contemporary peace operations. To implement a POC Mandate on a strategic and operational level, the Course sensitizes PSO personnel or multiplyers and provides the background, the framework and lessons learnt for protecting civilians in armed conflicts. Through building individual skills, the course aims at enhancing the capacity and effectiveness to implement POC mechanisms and tools. The course will be delivered through a combination of lectures, presentations, interactive discussions, group work and scenario based exercises.
Read full details about the Course
Modules:
Background and History of POC
Overview of contemporary UN, AU/REC Peace Operations
UN/AU/REC's Approach to POC
Normative Framework of POC
SSR, R2P and POC
Gender and POC
Practitioners' perspective
Challenges and Controversies
Target participants:
The training course targets Mid-level (operational O-3 to O-5) military personnel from the following countries: Benin, Burkina Faso, Cameroon, Chad, Djibouti, Ethiopia, Gabon, Ghana, Guinea, Kenya, Malawi, Mauritania, Niger, Nigeria, Rwanda, Senegal, Sierra Leone, South Africa, Tanzania Togo, Uganda and Zambia
UN/AU/RECs Staff
Mission personnel
Military personnel
Selection will strive to achieve gender balance of participants.