Maritime Security and Transnational Organised Crime Course (MSTOC 18 -1)
Peace and Security Studies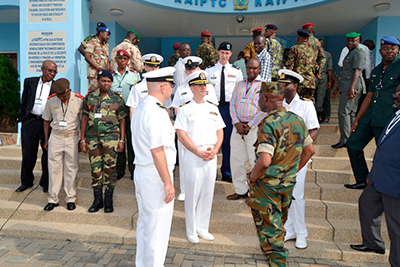 Course Fee:

This course is fully funded.
Terms and Conditions:
Cost of travel, accommodation and feeding for participants will be covered by the KAIPTC. (sponsored by German Ministry of Defence and Ministry of Foreign Affairs)
Course Summary:
The overall aim of the course is to train security sector actors in the domain of counter- piracy/maritime security and explore its potential links to transnational organized crimes. The security sector actors will be trained and updated on the newest trends and issues in the rule of law regarding piracy and transnational organized crime in Africa generally, and West-Africa specifically. The course also aims to establish and foster regional cooperation and coordination between individuals and institutions engaged in counter-piracy and transnational crimes.
Read full details about the course
Modules:
The course is planned to cover the following modules:
Introduction to West Africa and it's security challenges
Legal Frameworks on Maritime Security
Piracy/Armed Robbery
Illegal, Unreported and Unregulated Fishing (IUU)
Introduction to Transnational Organized Crimes, Money Laundering and Drug Trafficking
Human Trafficking / Migration
Arms Trafficking / Proliferation
SALW Proliferation
Criminal Investigation / -Intelligence
Maritime Environmental Crimes
Threat Assessment, Maritime Patrolling and Pursuit
Security Sector Reform
Reintegration and Reorientation
Illegal Migration by Sea
Human Security Management
Scenario based exercises
To complement the classroom work, there will also be a facility visit to the Vessel Traffic Monitoring and Information System (VTMIS) of the Ghana Maritime Authority as well as TEMA Harbour
Target Participants:
Set at the operational level, the course targets a mixed group of middle level security sector practitioners from the following:
ECOWAS Maritime Security Structure officials
Government officials, operational level staffers of legislative bodies/policymakers; and
Security sector practitioners (Key representatives from civil society, Police, Border Police, Maritime Police, Navy, Militaries, Gas and Oil Platform (GOPLAT) Industrialists, intelligence actors, oil traders, and maritime/shipping/storage security officers) directly involved in operational planning and implementation of policies.
Individuals and researchers in the area of maritime border security
The selection process will strive to achieve gender balance of participants as much as possible.