Maritime Security and Transnational Organised Crime
Peace and Security Studies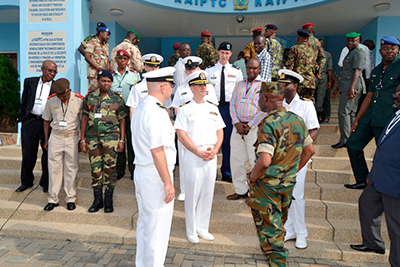 Course Fee:

This course is fully funded.
Terms and Conditions:
Cost of travel for non - Ghanaians, accommodation and feeding for all participants will be covered by KAIPTC. (sponsored by German Ministry of Defence and Ministry of Foreign Affairs)
Course Summary:
This course targets security sector actors and practitioners. It aims at establishing and fostering regional cooperation and coordination between individuals and institutions engaged in counter-piracy and counter-transnational crimes.
Read full details about the course
Modules:
Introduction to West Africa and it's security challenges
Legal Frameworks on Maritime Security
Piracy/Armed Robbery
Illegal, Unreported and Unregulated Fishing (IUU)
Introduction to Transnational Organized Crimes, Money Laundering and Drug Trafficking
Human Trafficking / Migration
Arms Trafficking / Proliferation
SALW Proliferation
Criminal Investigation / -Intelligence
Maritime Environmental Crimes
Threat Assessment, Maritime Patrolling and Pursuit
Security Sector Reform
Reintegration and Reorientation
Illegal Migration by Sea
Human Security Management
Scenario based exercises
Target Participants:
ECOWAS Maritime officials
Operational level staffers
Security sector practitioners and researchers