ECOWAS/KAIPTC Election Observation Training Course – Long Term
Conflict Management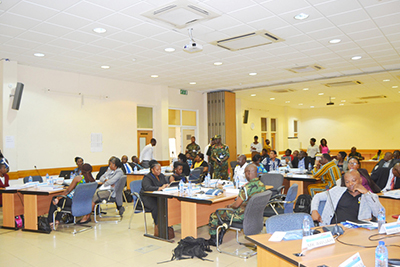 Course Fee:

This course is fully funded.
Terms and Conditions:
All expenses for the course participants are covered by the Centre as the course is sponsored by GIZ (airfare, feeding, accommodation and tuition will be provided at the Centre for the duration of the programme).
Participants are, however, required to show proof of having health insurance cover for the training period.
Course Aim
The overarching goal of the pilot course is aimed at developing the capacity of key personnel in the military, police, civil society and governmental agencies of ECOWAS member states to conduct long term election observation (LTEOM) in the region and beyond. The objective seeks to provide the knowledge and understanding of election observation methodology for assessing pre-election, election and post-election periods.
Read full details about the Course
Target Group

The course targets participants with background in Legal, Gender, Security, Media and Communications, Electoral Operations, Human Rights, Political Science, Conflict Management and any other relevant knowledge or experience.
Course Content:
The course covers a total of eleven (11) modules. They are as follows:
MODULE 1: Institutional Perspective on LTEOM
MODULE 2: International and Regional obligations and Commitments for Elections.
MODULE 3: Election Principles and Framework for Analysis
MODULE 4: Structure and Roles of LTEOM and LTO Activities
MODULE 5: Elections in Peace Building Initiatives
MODULE 6: LTO Reporting and Briefing
MODULE 7: Code of Conduct for LTOs
MODULE 8: Technology in LTO Activities
MODULE 9: Technology in Elections
MODULE 10. Security in LTEOMs
MODULE 11: Recruitment for LTO Assignments
Selection Process
The process will be as following:
Selection Board will decide on shortlisted and waitlisted applications (end March 2018)
Shortlisted candidates will be asked to confirm their seats bindingly
Should not all shortlisted candidates confirm their seats, these will be offered to candidates on the waitlist on "first come first served" basis
Contact at KAIPTC:
Mrs Marylyn Agblor
Training Coordination Officer
Tel.  00 233 (0) 302 718200 Ext. 1012
Fax. 00 233 (0) 302 718201
Email: marylyn.agblor@kaiptc.org
Email: training.coordination@kaiptc.org