Advance Stabilization & Reintegration Course
Peace Support Operations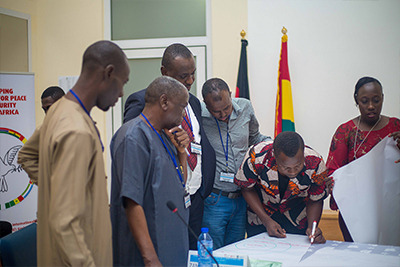 Course Fee:

$500.00 (Commitment Fee)
Terms and Conditions:
Participants attending this course are expected to buy their own ticket.
Course Summary:
This course aims at enhancing the capacity and effectiveness of all stakeholders involved with Stabilisation and Reintegration (S&R) processes. Participants are provided with a comprehensive, conceptual and operational level understanding of the principles, procedures and practices of S&R programmes.
Modules:
Assessments and Analysis of Stabilisation and Reintegration Programmes
Stabilisation of the Post Conflict Environment
Preventing/Countering Violent Extremism and managing Radicalisation in Reintegration
Design and Operationalization of Reintegration
Economic Reintegration; Social and Psychosocial Reintegration
Reintegration of Specific Needs Groups
Final Simulation Exercise – S&R Programme Design for Mewaliland.
Target participants:
Line ministries/government departments/agencies and commissions involved with S&R
UN country missions, agencies, funds, programmes and entities
AU and other regional and sub-regional bodies
Development and bilateral organizations working on S&R
Relevant NGOs/Civil Society Organisations, Academia actively participating or supporting S&R programmes in conflict-affected or post-conflict African countries